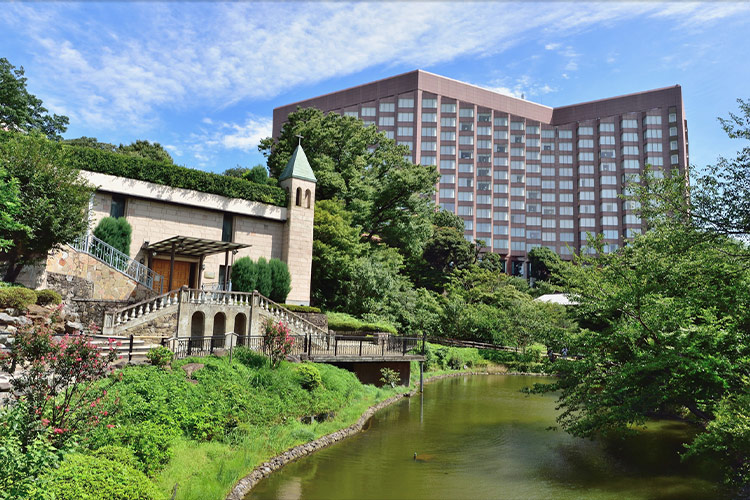 FAQ
FAQ
We appreciate your heartfelt support for Hotel Chinzanso Tokyo. If you have anything to ask, please refer to the FAQs below or feel free to contact us at each inquiry desk.
Questions about Accommodations
Questions about Restaurants & Bars
Questions about Banquets and Meetings
Other Questions About the Hotel
May I use a credit card?

We accept the following major credit cards: Visa, American Express, Mastercard, Diners Club, JCB and several others that are commonly used in Japan.
Note: Some credit cards cannot be used at Nara Kikusuiro Unakiku.

Contactless payment system (QR code payment) is also available at the following stores.
<Stores Available>
Front desk, concierge, spa, restaurants (except for Nara Kikusuiro Unakiku), selections, photo room (Banquet building), restaurant in Ito International Research Center, The University of Tokyo.
<Accepted Payment Methods>
auPAY, Alipay, BankPay, WeChatPay, Union Pay, JKO Pay, LINE Pay, NAVER PAY, Merpay, Alipay+, PayPay, Yucho Pay, d Pay, J-Coin Pay, Rakuten Pay, QUO Card Pay, XNAP
Can I exchange foreign currency at the hotel?

Currency exchange may be done at the Front Desk (3rd floor of the hotel building) . This service is for hotel guests only and is limited to US$1,000 per exchange.
What time is check-in and check-out?

Check-in is available starting at 15:00 (3 p.m.). If you arrive earlier than this, we will hold your luggage for you until your room is available. If you wish to use your room before 15:00, you will be charged from the day earlier. Check-out time is at noon.
Can I extend the time of check-out?

We charge an additional fee to continue using your room after check-out time. This fee is 30% of a full day's rate up to 15:00 (3 pm), 50% of the day's rate between 15:00 and 18:00 (3-6 pm), and a full day's charge from 18:00 (6 pm) onward. Late checkout may not be available and depends on availability of the room.
Can I reserve a specific room in a specific location?

We will do our best to accommodate your request.
What is your cancellation fee policy?

If you cancel your stay before 15:00 (3 p.m.) of the day before your scheduled arrival date, there is no charge for cancellation. If you cancel your stay after 15:00 of the day before your scheduled arrival date, or on the scheduled day, there will be a cancellation fee of one night's room charge. *Separate rules apply for reservations of 5 rooms or more. Please inquire for details.
Are extra beds and baby beds available?

Extra beds are available. For reservations of 3 adults, an extra bed will be provided for a fee of 11,000 yen (plus service charge).If a child of age 12 or younger is staying in the same room as their parents, it will be provided free of charge.Extra beds are available in limited numbers, so please inquire when you make your reservation.Children 6 years old or younger may stay free in the same room as their parents if they don't require an extra bed. For more information, please call us at +81-3-3943-0996.
Can we have a crib in our room for our baby?

Yes.
Can we have a special treat available in our room when we arrive, such as a cake, fruit basket or flowers?

Please contact us at least a day prior to your arrival, and we will be happy to make this kind of arrangement for you. To order a custom-made cake, please contact us 3 days before you arrive. You can pay for this service when you check out.
Do I need to make a reservation in advance for the hotel's restaurants?

We recommend reservations if you have a desired time to use them. Please understand that there might be some time slot of a day or some period of a year when we do not accept reservations.
Are your restaurants wheelchair-accessible?

Yes, all of our restaurants are wheelchair-accessible except Mucha-an due to steps to the entrance. It would be helpful if you let us know that you'll be coming in a wheelchair at the time you make a reservation.
Is smoking permitted in the restaurants?

All restaurants are non-smoking. There is a smoking section in the Main bar, Le Marquis. However, due to the small number of seats available in the section, we recommend booking in advance.
Which restaurants welcome children?

Children may dine at nearly all of our restaurants, but dinner at Il Teatro is restricted to elementary school students or older.
Guests under age 20 may not enter main bar Le Marquis.
Is it possible to reserve a restaurant for a private party?

Yes, Mokushun-do and Le Marquis are available.
What kinds of services can you provide at your restaurants for a special occasion such as birthday or an anniversary dinner?

If you let us know three days in advance that you are celebrating a special occasion, we can prepare a birthday cake, bouquet of flowers, etc.
Can the hotel's restaurants accommodate people with dietary restrictions?

We can accommodate dietary restrictions if you let us know about them at the time you make a reservation.
How far in advance can I book space for a banquet or meeting?

The standard amount of time is a year, but for a large meeting or banquet, please contact us even earlier if you can.
Is it possible to use the Internet for presentations in your banquet and meeting rooms?

All of our banquet and meeting rooms have both wired and wireless Internet available, for a fee.
Are there smoking spaces available for banquets or meetings?

We can prepare a smoking venue at a meeting or banquet upon request.
Is the hotel able to print invitations for an event?

Yes.
Is there parking available? How much does it cost?

Parking is available for up to 400 cars. There is a fee for parking. Guests staying at the hotel will be given a discount.
What kind of transportation is available to and from the airport?
Do you have a daycare facility for children?

No, however, we can arrange for a babysitter to stay with your children in your room. Please ask the concierge for more information or to reserve a babysitter. Concierge tel.: +81-3-3943-2222
Are there gift certificates for sale for use of your facilities?

Yes, please purchase them at our front desk (3rd floor of the hotel building) or the cashier desk (3rd floor of the Banquet building). Contact us at +81 3 3943-1111 for details.
Is there a nursing room available for breastfeeding?

There is a nursing room on the 1st floor of the Hotel building and the Banquet building B1 floor. (It is open to women only.) In addition, some of the women's rest rooms, and one of the men's room (on Banquet bldg. 2F) have diaper changing tables.
Could you hire a car and driver for us?

For reservations, please contact the information desk or concierge.
Is there a "Lost and Found" at Hotel Chinzanso?

Please come to the information desk or the concierge desk. However, after a week we give items brought to the Lost and Found to the local police station.
Does the hotel offer any local transportation services?

On weekends and holidays, Hotel Chinzanso Tokyo runs a shuttle bus between the hotel and bus stop No. 7 outside the West Exit of Ikebukuro JR Station. The hotel can also charter a bus for you. For more information, click here
Is it possible to borrow or rent a wheelchair at the hotel?

We have wheelchairs available at no cost. However, there are a limited number, so please let us know in advance if you need one. Please ask about wheelchair availability at the information desk or concierge desk. We also have wheelchair-accessible bathrooms and a wheelchair-accessible entrance to the Garden. We have a special wheelchair-accessible route through the garden.
Can I wear geta (traditional Japanese wooden sandals) in the hotel?

You may wear rubber-soled geta in the hotel (excluding certain restaurants and bars*). Other geta may be worn outdoors, but not in the hotel.
*Please note that geta, setta (other traditional Japanese sandals) and yukata are not allowed in Ryotei Kinsui, Il Teatro (Italian cuisine), Tokyo Skyview Restaurant and Le Marquis (main bar).