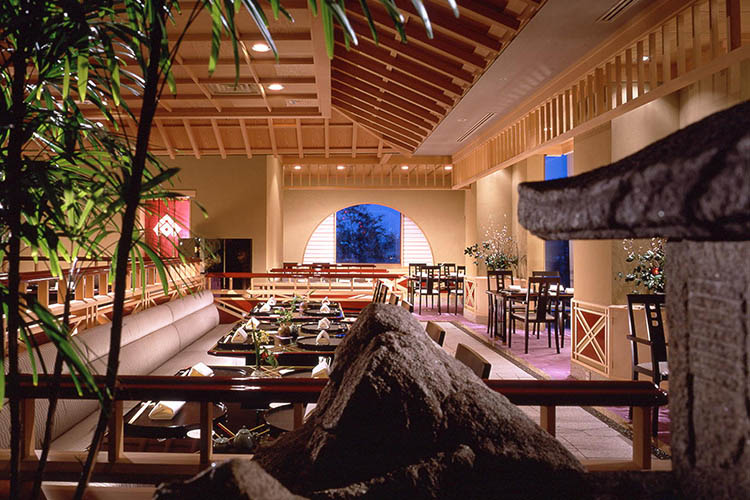 Restaurants
Miyuki (Japanese cuisine)
Enjoy traditional and modern Japanese cuisine in an elegant Japanese atmosphere with a pleasing garden view. Our colorful seasonal ingredients are beautifully served whether you choose a table seat, sushi counter, teppanyaki counter or private room.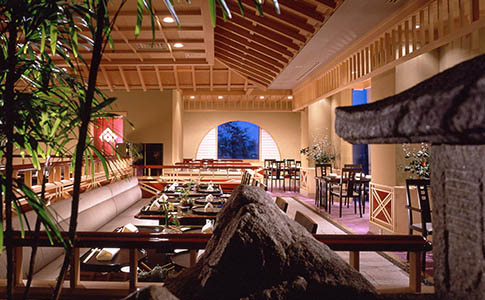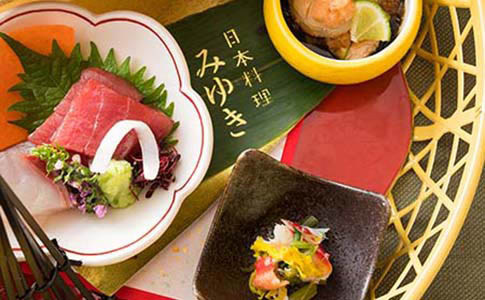 Location

Hotel Bldg. 2F
Hours:

*Latest Business hours/services changes

Breakfast: 7 a.m. to 10 a.m. (last order)
Lunch: 11:30 a.m. to 2:30 p.m. (last order)
Dinner: 5:30 p.m. to 11 p.m. (last kaiseki course order 8:30 p.m., last other order 9 p.m.)



Notes: On weekends, holidays, and specified dates (August 11th to 16th, January 1st to 3rd), breakfast is available only to staying guests. Non-staying guests may enjoy breakfast in our restauants on weekdays.
Prices

Breakfast: (~5/31)from 4,100 yen,(6/1~)from 4,800 yen
Lunch:from 4,300 yen(weekdays),
from 7,000 yen (Weekends and holidays)
Dinner:from 8,700 yen (weekdays),
from 10,700 yen (Weekends and holidays),*5/19~7/2(all day) from 14,400 yen,7/3~(all day) from 10,700 yen

Note: Prices include consumption tax, but a service charge will be collected separately. There is also a separate fee for private room use.
Teppanyaki is only served at the dedicated counter.
Seats

Table seats: 72
Private rooms: 5 rooms with 2 to 10 seats each
Sushi counter seats: 8
Teppanyaki counter seats: 6
Private rooms

Each private room can accommodate 2 to 10 people and be used for various gatherings.
Dress code

Please refrain from wearing shorts or sandals.
The minimum age for sushi counter use at dinner time is 7.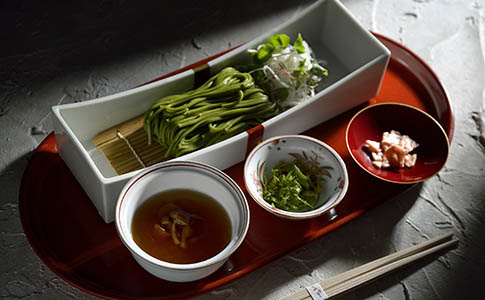 Green tea soba in special dashi
Cold green tea soba noodles are served in a special dashi (broth) moderately thickened with kudzu. The special dashi blends the refined sweetness of high-grade dried tuna with the fragrance and rich flavor of shrimp shells. Light, flavorful dashi made from sweet dried tuna is the very essence of traditional Japanese cuisine and has been gaining worldwide attention. UNESCO registered traditional Japanese cuisine as an Intangible Cultural Heritage to ensure it gets passed down to future generations.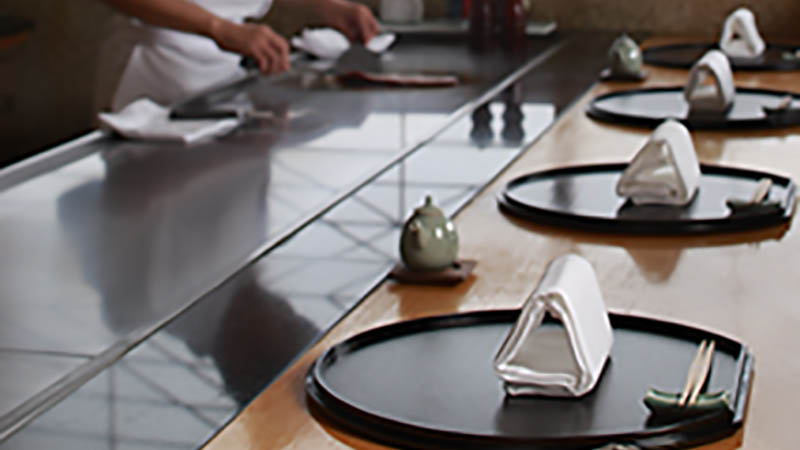 Teppanyaki
The sizzling sounds, tempting aromas and culinary skills on display at the teppanyaki counter are enough to make your mouth water. Enjoy delicious seasonal ingredients grilled enticingly before your eyes.
Restaurants
Western
Japanese
Bar and lounge
Reservations & Inquiries
Reservation desk
Phone: +81 3 3943-5489
(10 a.m. to 7 p.m.)