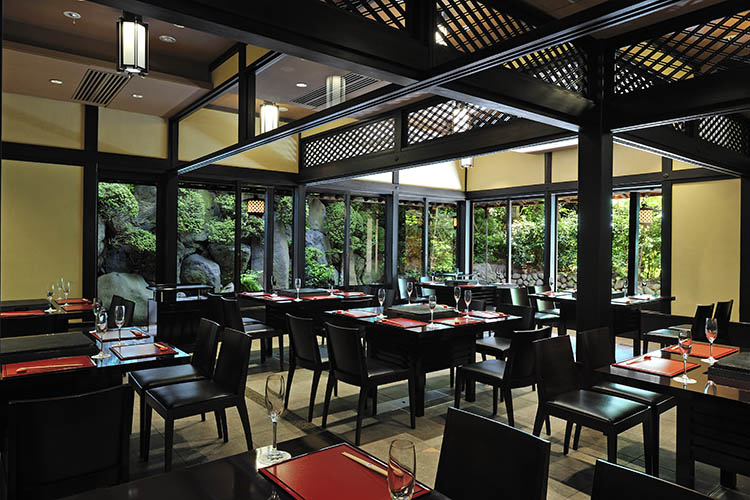 Restaurants
Mokushundo (stone-grilled cuisine)
Nestled behind our gardens, this charming Showa Era restaurant serves unique iron-kettle kaiseki cuisine and stone-grilled kaiseki cuisine grilled on lava stones from Mount Fuji. Old neighboring houses are available as private rooms.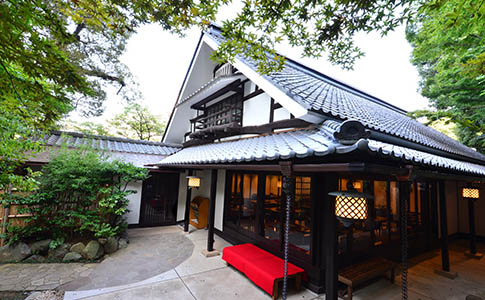 Location

In the garden
Hours:

Lunch
Weekdays 11:30 a.m. to 2:30 p.m. (last order)
Weekends & holidays 11:30 a.m. to 3 p.m. (last order)
Dinner
5 p.m. to 10 p.m. (last order 8 p.m.)
Prices

Lunch: from 5,500 yen
Dinner: from 8,200 yen

Note: Prices include consumption tax, but a service charge of 10% for table use and 15% for private room use will be collected separately.
Seats

Table seats: 66
Private rooms: 5 rooms with 2 to 26 seats each
Private rooms

Neighboring old houses are available as private rooms where meals and traditional weddings can be enjoyed.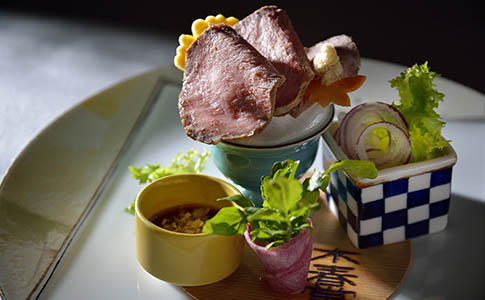 Steamed and roasted Japanese beef
Loved at banquets since the Showa Era, this traditional dish features domestic beef loin expertly steamed, roasted and seasoned according to a handwritten recipe handed down for generations. Enjoy the taste of fine domestic beef with horseradish and a special sauce bursting with flavor from over 10 seasonings and ingredients.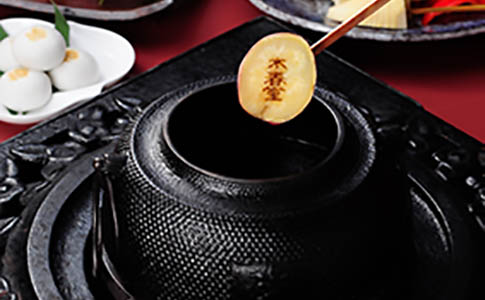 Iron-kettle cooking
Skewered meat, fish and vegetables are lightly fried in a traditional iron kettle using a special blend of camellia and other oils. Fully enjoy delicious seasonal ingredients in Hotel Chinzanso Tokyo's original iron-kettle kaiseki course.
Reservations & Inquiries
Reservation desk
Phone: +81 3 3943-5489
(10 a.m. to 7 p.m.)