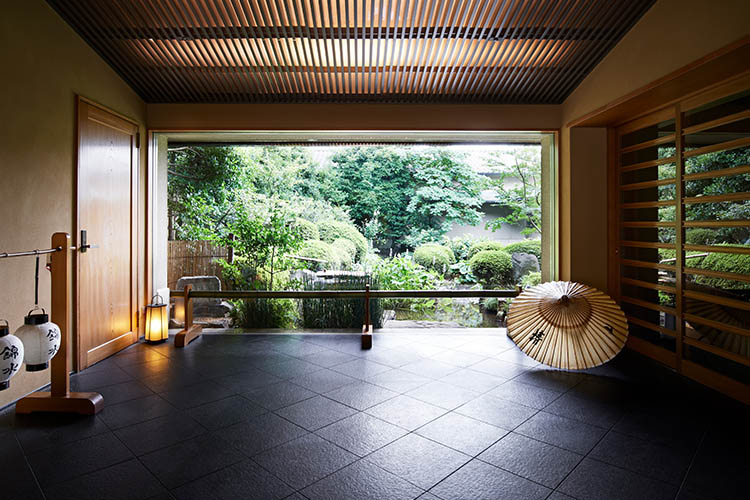 Restaurants
Ryotei Kinsui (kaiseki cuisine)
From warm hospitality to delicious cuisine, the restaurant in this traditional Sukiya-style building overlooking Unkinchi pond offers a deeply satisfying dining experience.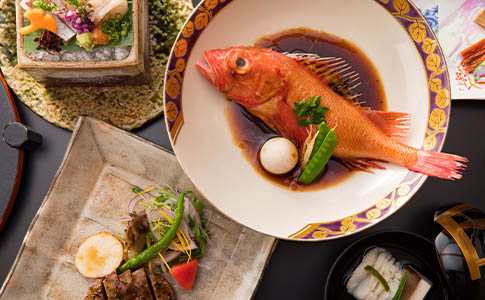 Location

In the garden
Hours:

*Latest Business hours/services changes



11:30 a.m. to 10 p.m. (last order 8 p.m.)

Note:By reservation only, accepted until 3:00 p.m. 3 days in advance.
Prices

Lunch:from 12,800 yen(Weekdays),from 20,300 yen(Weekends and holidays)

Dinner: from 20,300 yen

Note: Prices include consumption tax, but a service charge of 20% will be collected separately. There is also a separate fee for private room use.
Seats

Private rooms: 10 rooms with 2 to 60 seats each
Annex: 2 houses with 2 to 8 seats each
Private rooms

Guests of all ages can comfortably relax and chat in chairs or sunken kotatsu seats with garden views that give the impression of dining in the woods. It's the perfect setting for traditional Japanese wedding banquets.
Dress code

Please refrain from wearing yukata, shorts or sandals.
Meet our hostess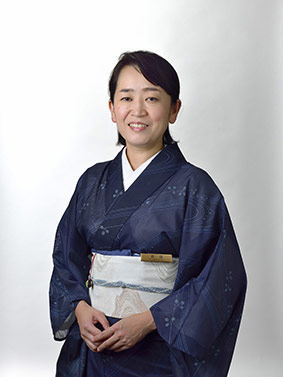 Kinsui head hostess

Mutsumi Shinmori

Message

Kinsui restaurant opened in 1987 on the banks of Unkinchi Pond with a Sukiya-style architecture and has been serving traditional Japanese cuisine ever since. Customers feel at ease here on milestone occasions such as family celebrations and corporate events. With a time-honored spirit of hospitality, we warmly welcome all guests.

Profile

Mutsumi Shinmori
She joined Fujita Kanko in 1993 and worked at Osaka Taiko-En, where she became responsible for banquet services and worked at various establishments including the French restaurant, bar and Japanese restaurant. Then she served as the head hostess at Miyuki Japanese restaurant and became the head hostess at Kinsui in 2017. She also teaches etiquette.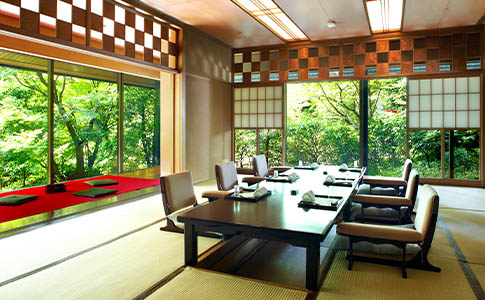 Enjoy seasonal garden beauty in our private rooms
The restaurant is in a peaceful setting surrounded by nature where flowers bloom in every season and the sounds of waterfalls and singing birds can be heard. It's easy to forget you are in the center of a city while relaxing near the flowing spring water and dancing fireflies. Up to 60 guests can relax and dine in our traditional private rooms designated tangible cultural properties.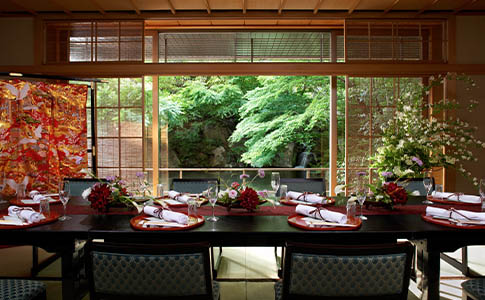 Authentic Japanese wedding banquets
Select ingredients, expertly prepared dishes and warm hospitality contribute to peaceful wedding banquets and cheerful conversation.
Restaurants
Western
Japanese
Bar and lounge
Reservations & Inquiries
Reservation desk
Phone: +81 3 3943-5489
(10 a.m. to 7 p.m.)