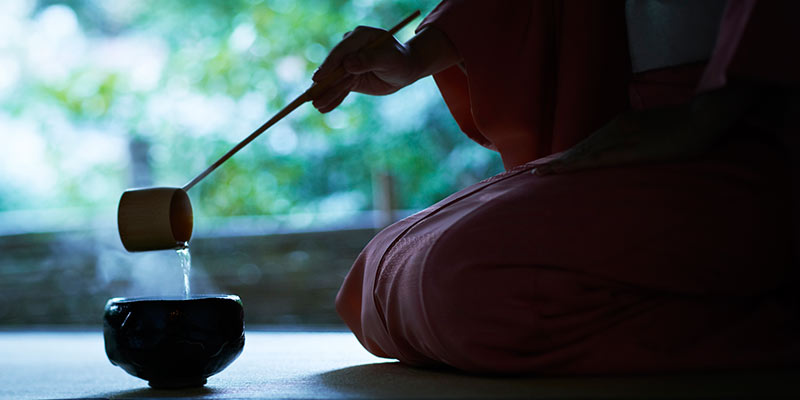 Experience a traditional Japanese tea ceremony in our historic tea houses.
Our traditional Japanese tea houses, located in the garden, are very old buildings and one of them has been registered as a tangible cultural asset. The tea ceremony is an art form that goes back more than 1,000 years. It is not about drinking the tea, but rather, it is a ritual with precise and graceful movements in a careful sequence. To become a tea ceremony master takes at least 10 years of study and practice.
Our trained tea master will lead a tea ceremony for you upon request.
The essence of Tea Ceremony is Harmony (和) Respect (敬) Purity (清)Tranquility(寂).
The essence of Tea Ceremony embodies the very spirit of Japanese hospitality. Please kindly enjoy this once in a lifetime opportunity, 一期一会 (Ichigo-Ichie).
We are pleased to welcome you to our traditional tea ceremony house, Zangetsu, which is a Japanese national registered tangible cultural property. You can feel the philosophy of Zen at Zangetsu, located in Hotel Chinzanso Tokyo's garden, while having a cup of Japanese green tea and Japanese confection in tranquility.
Different rooms will be used according to the group size.
Date:
Monday, Thursday
1 p.m. to 5 p.m.
Tuesday, Wednesday, Friday
11 a.m. to 5 p.m.
Available only for hotel, restaurant and banquet guests.
Please make your reservation at least a week in advance.
Required time:
About 1 hour (Contact us for time request)
Price:
For guests staying at the hotel (In-house guests only):
1 to 5 people: 60,000 yen per group
6 or more people: 11,000 yen per person
Interpreter: 15,000 yen
(Includes consumption tax and service fee)
Reservations & Inquiries:
Phone: +81 3 3943-1111