[For MICE and Groups] Awa Odori Experience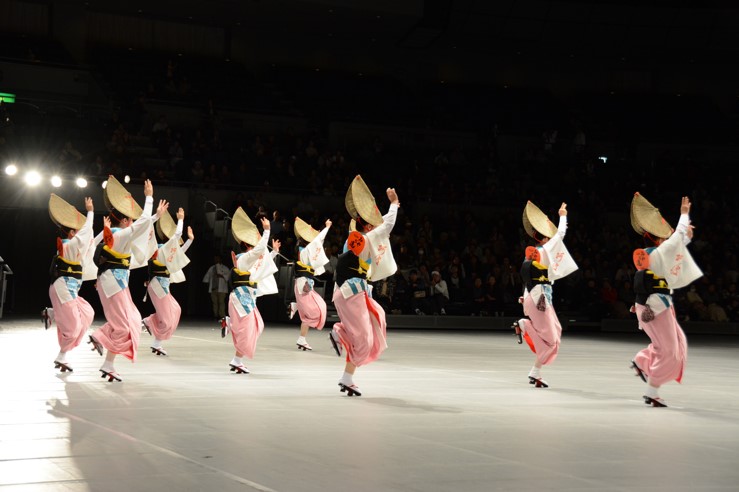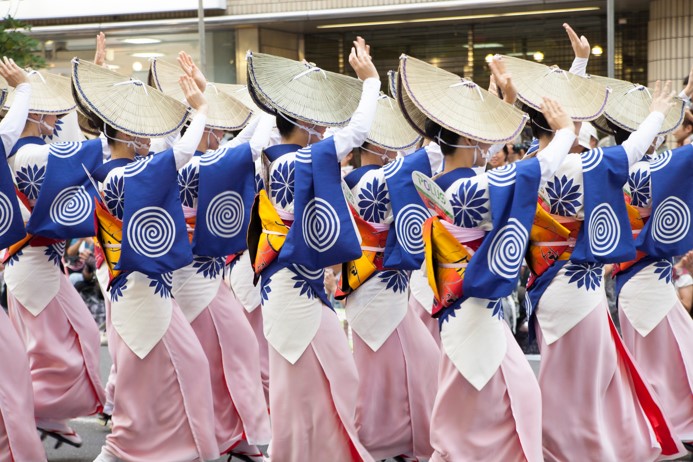 Awa Odori originated in Awakuni (current day Tokushima) and has different dances for men and women. The appeal of Awa Odori is that dancers feel a sense of liberation that cannot be attained through daily life by dancing passionately to a set rhythm. Moving your body lightly helps improve circulation and promote the discharge of substances that cause fatigue.
Dates
All year *Excluding 12/31 to 1/4
*Reservations must be made up to 2 weeks in advance. (If you wish to rent a costume, reservations must be made up to 1 week in advance)
Time
Weekdays 4:00 p.m.  to 9:00 p.m. (Final start time)
Weekends and holidays 9:00 a.m. to 9:00 p.m. (Final start time)
Duration  30 to 45 minutes
Price
Up to 10 people   110,000 yen
11 to 20 people  added cost for every additional person: 9,900 yen
21 people or more Estimates provided for the occasion
1 English interpreter  16,500 yen
Interpreters in other languages are also available.
A separate venue fee will be incurred (each banquet hall or Kinsui)
The venue fee will depend on the venue.
Please contact us for details.
Option 1 costume rental 6,600 yen
*Prices include consumption tax and service charge.
*Please note that this is a special plan and other discounts or special offers cannot be applied.
Activity Content
Experience menu [example]
After watching a performance by the instructors, participants will experience the following: 
1.Brief overview of the history of Awa Odori
Introduction of different types of dance for men and women, followed by practice 
3.Split into teams for a dance-off, followed by individual dancing performances 
*Groups of up to 10 people will have 4 to 5 instructors.
Cautionary Notice
All the equipment will be provided, so guests will not be required to bring anything. Please wear clothing that you can move comfortably in.
Cancellation policy: 50% for one week before the date, 70% for two days before the date, 100% for a day before the date or on the day of
What is Awa Odori?
Awa Odori is said to have originated in Awakuni (present-day Tokushima). The dance itself has spread outside the region, with major events held in Tokyo as well. 
Its roots have yet to be uncovered, with some believing it is a dance for the spirits or a Buddhist prayer dance. 
Awa Odori is one of the three major Bon festival dances in Japan as well as one of the three major festivals in Shikoku. Tokushima Awaodori, one of Japan's traditional performing arts with a history of about 400 years, is the largest in Japan in terms of dancers and spectators.