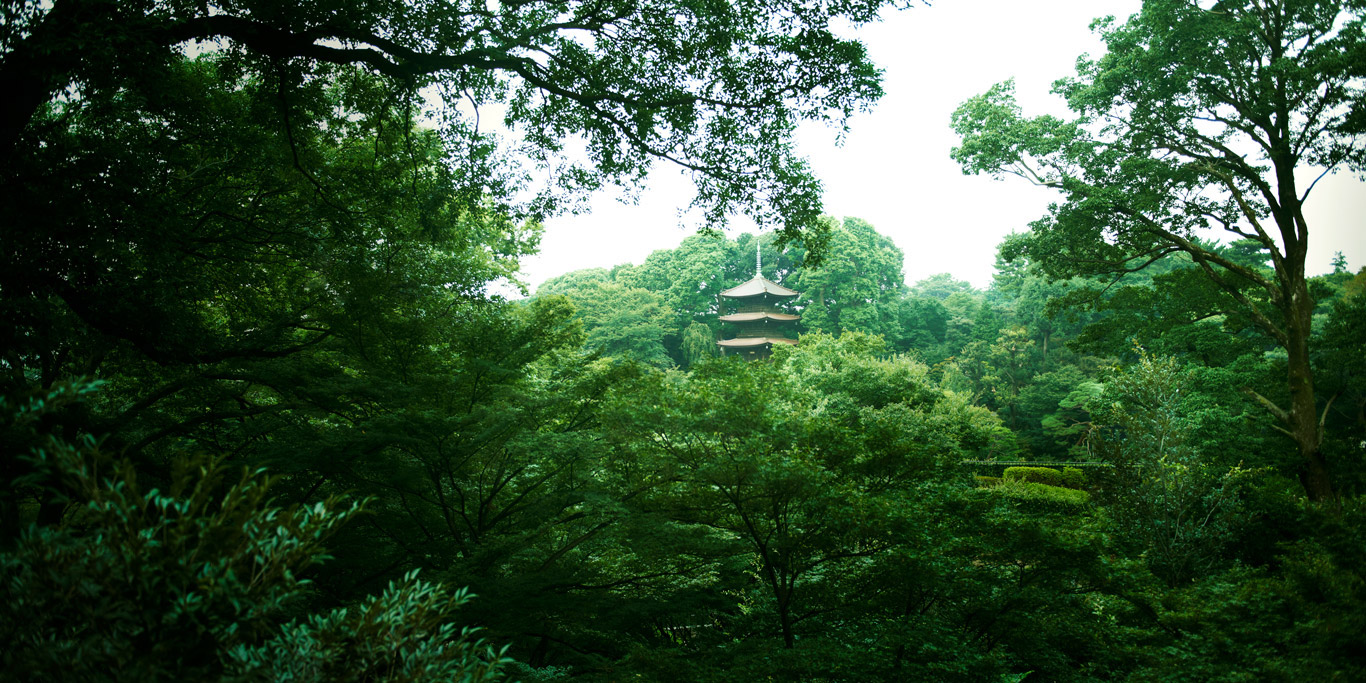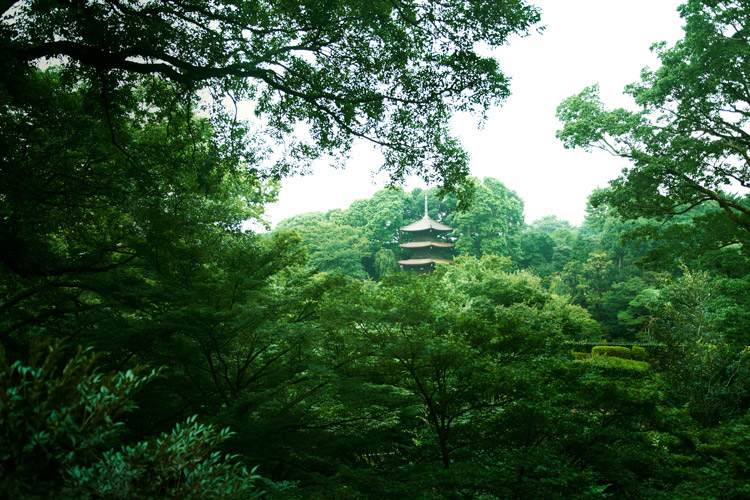 庭園&活動
東京樁山莊大飯店的「現在」、看點
Staying at Hotel Chinzanso Tokyo: Discover the Essence of Japanese Culture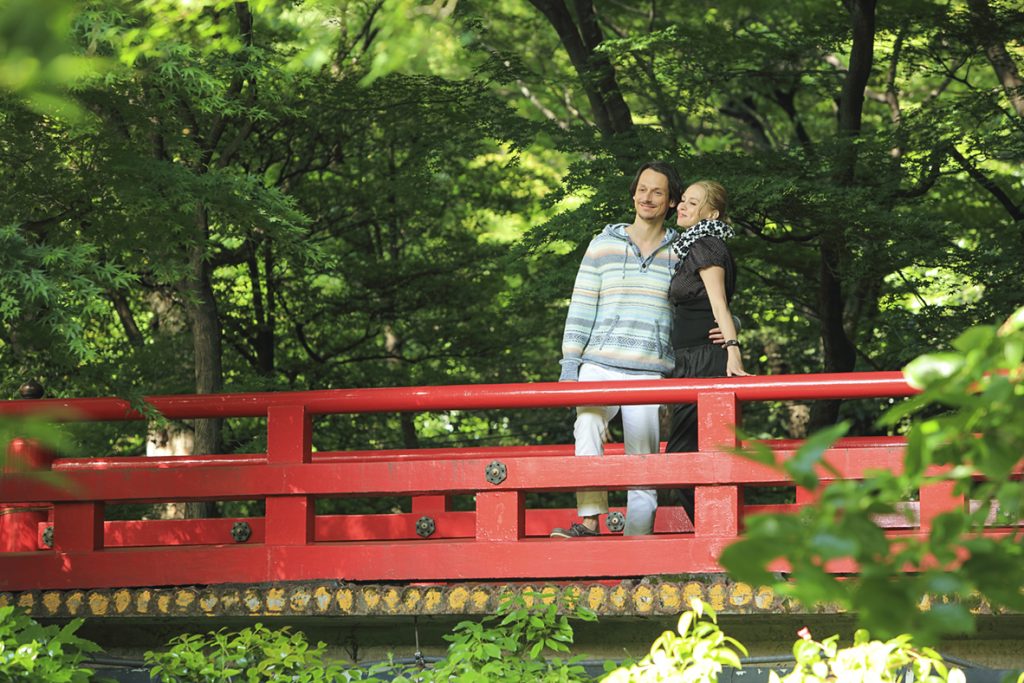 Imagine waking up to this view of Tokyo. At the heart of the bustling metropolis with towering skyscrapers, there is a beautiful garden with a pagoda that was built six centuries ago. Tokyo, the city of cutting-edge technology, has kept a strong connection with Japan's rich nature through this oasis with ancient roots. Only the guests at Hotel Chinzanso Tokyo know this well-kept secret. To them, Tokyo unfolds as a complex city that has treasured nature and history while growing into a leading metropolis of the 21st century.
A stay at Hotel Chinzanso Tokyo is a chance to fully enjoy this view along with authentic Japanese culture, nature, and hospitality. The splendid garden that shows a different scene every season, the elegant dining facilities, as well as the Japanese culture activities that can be enjoyed at this hotel, will turn your stay in Tokyo into an unforgettable experience. 
Let us introduce, in brief, the features of Hotel Chinzanso Tokyo, along with tips for our guests to enjoy their stay to the fullest.
Rooms with a Magnificent View of the Garden and of the City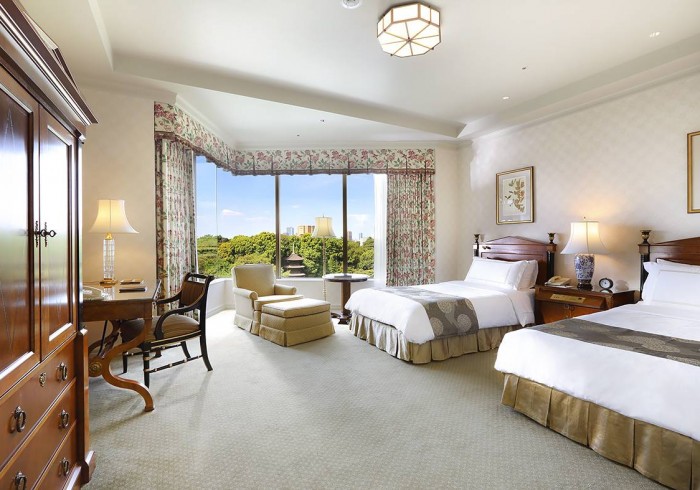 There are thirteen types of rooms at Hotel Chinzanso Tokyo that differ in size and decor. The rooms are either faced towards the west, offering a splendid garden view with the high-rise building districts of Shinjuku and Ikebukuro in the background, or towards the east, with a city view, offering a sweeping view of the center of the metropolis with landmarks like Tokyo Skytree and Tokyo Tower.
All the rooms at Hotel Chinzanso Tokyo are very spacious. Standard rooms measure at least 45 square meters. Imperial Suites are the largest rooms available; they contain a kitchen and dining room and can easily accommodate a three-generation family. Another unique type of room is the View Bath Suite, which offers a luxurious bath with a garden view.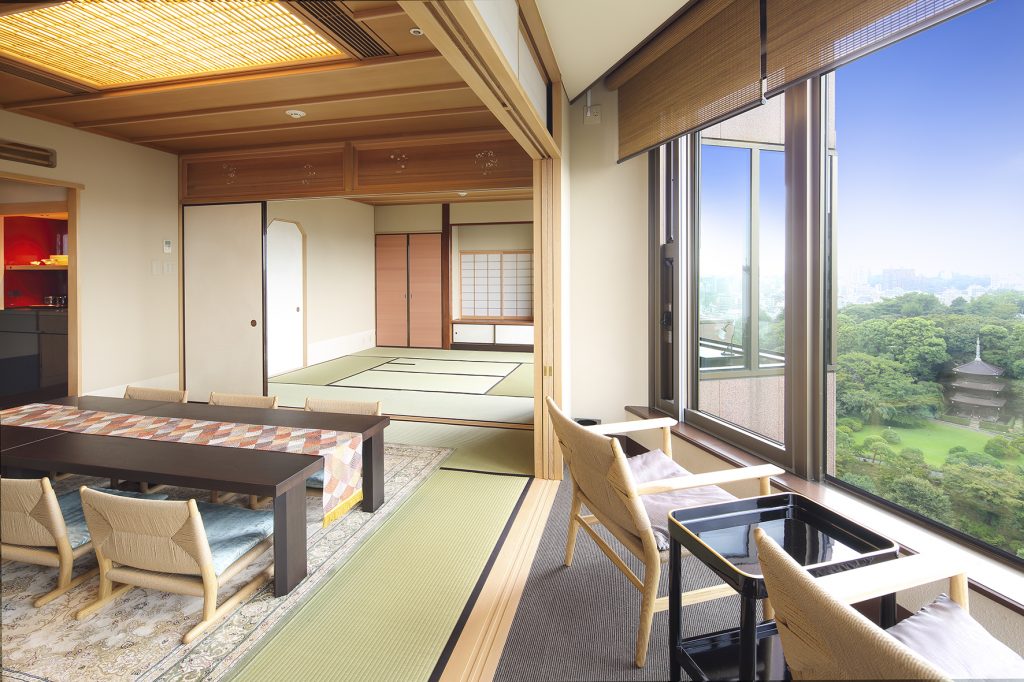 For guests who wish to stay in a Japanese-style room, there is the elegant Japanese Suite with tatami mats and futon bedding. Please refer to the Room & Suites page for an overview of all the guest rooms available at Hotel Chinzanso Tokyo.
The rooms have a European-style structure with Japanese decor details. Japanese art, such as ukiyo-e woodblock prints, with scenes from various regions of Japan or kabuki actors, is displayed in the rooms. The beds are decorated with textiles woven in the Nishijin district of Kyoto, famous as an area where kimonos are made. The teacup sets and other objects in the rooms are also made in Japan.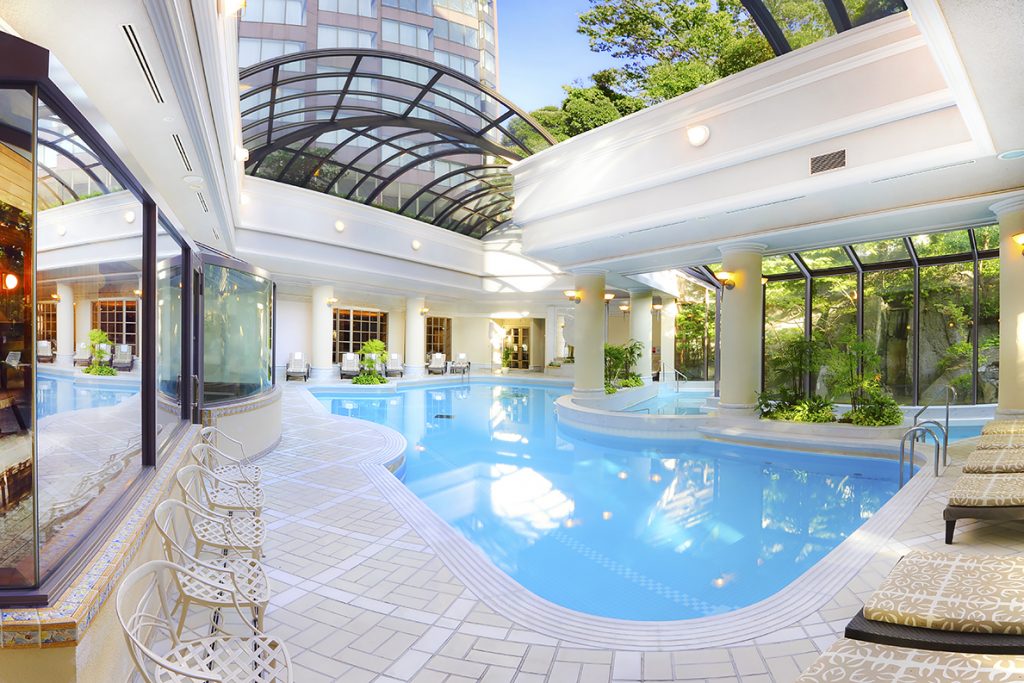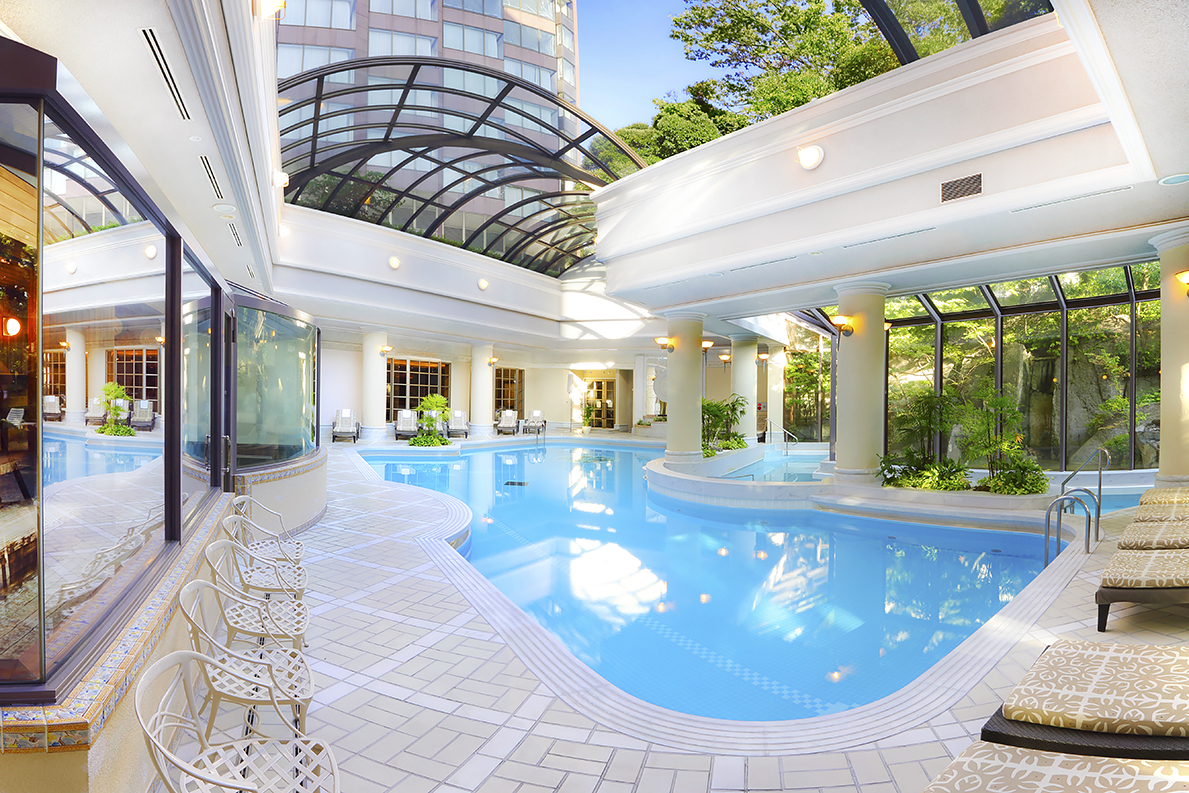 A stay at Hotel Chinzanso Tokyo is an opportunity to enjoy the utmost comfort and hospitality in a relaxing environment. Hotel guests can unwind at the excellent spa, the largest in Tokyo, which is fully equipped with a pool, healing treatments , an aesthetics salon, and hot spring baths sourced from Ito in the Izu Peninsula.
Refined Cuisine Reflecting the Flavors and Colors of the Seasons
Guests and restaurant patrons of Hotel Chinzanso Tokyo can enjoy a full spectrum of cuisines at the nine restaurants. Each has distinctive features and specialized menus.
Kinsui is a classic ryotei restaurant with private Japanese dining rooms, surrounded by the sights and sounds of the garden. Here guests can enjoy refined traditional kaiseki cuisine that highlights seasonal flavors. Every dish in a kaiseki meal course is a small work of art, bringing enchantment to the eyes and palate.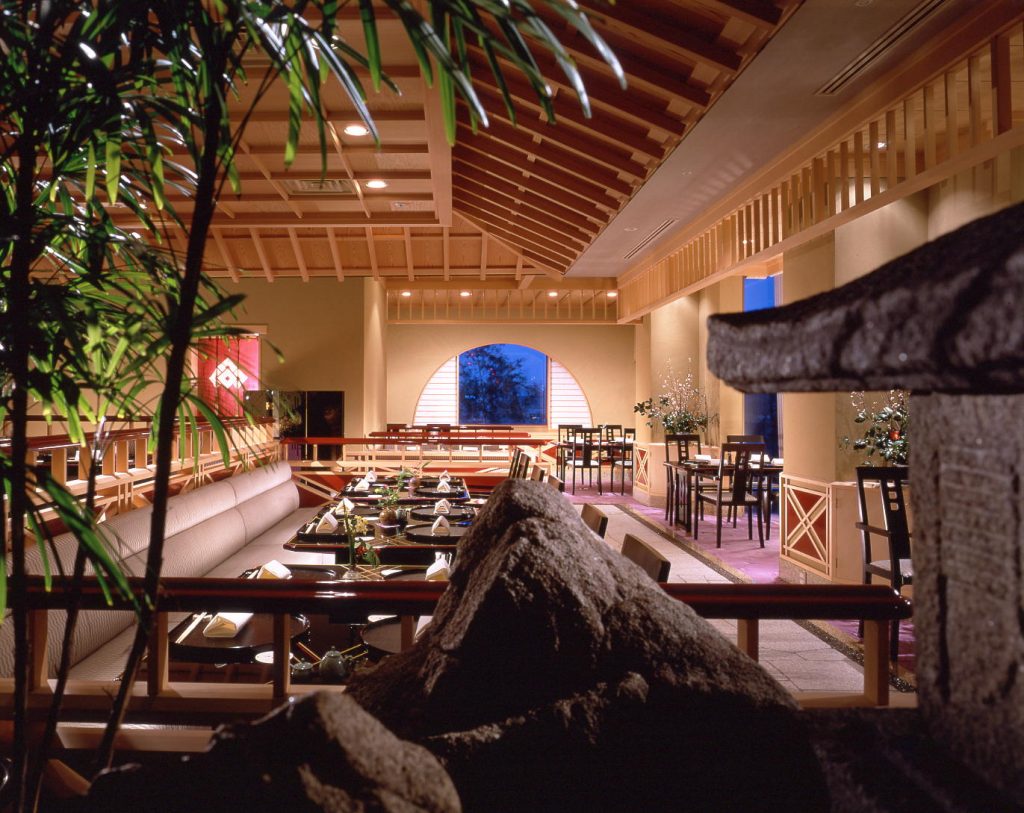 Miyuki, located on the second floor of the hotel, offers Japanese dishes such as sushi and teppanyaki (hot-plate grill) cuisine. The stylish Japanese interior with a garden view is a truly relaxing and inspiring environment, for lunch or dinner.
The main restaurant for staying guests is Il Teatro, located on the third floor with a beautiful panorama of the garden and its iconic Three-Story Pagoda. Il Teatro is specialized in fine Italian cuisine using high-quality ingredients grown in Japan. A wide selection of Italian wines is available and paired with the menu by experienced sommeliers.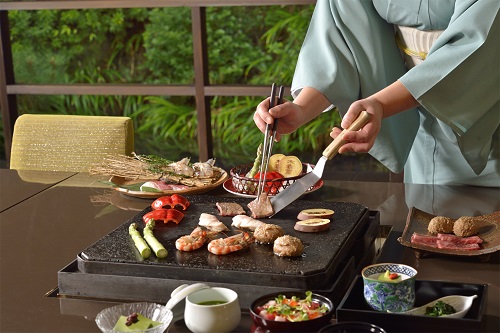 Mokushundo is located in a stylishly renovated traditional ryokan right at the foot of the Camellia Mountain in the garden. This restaurant is specialized in kaiseki cuisine cooked on plates made of hot lava stone from Mt. Fuji.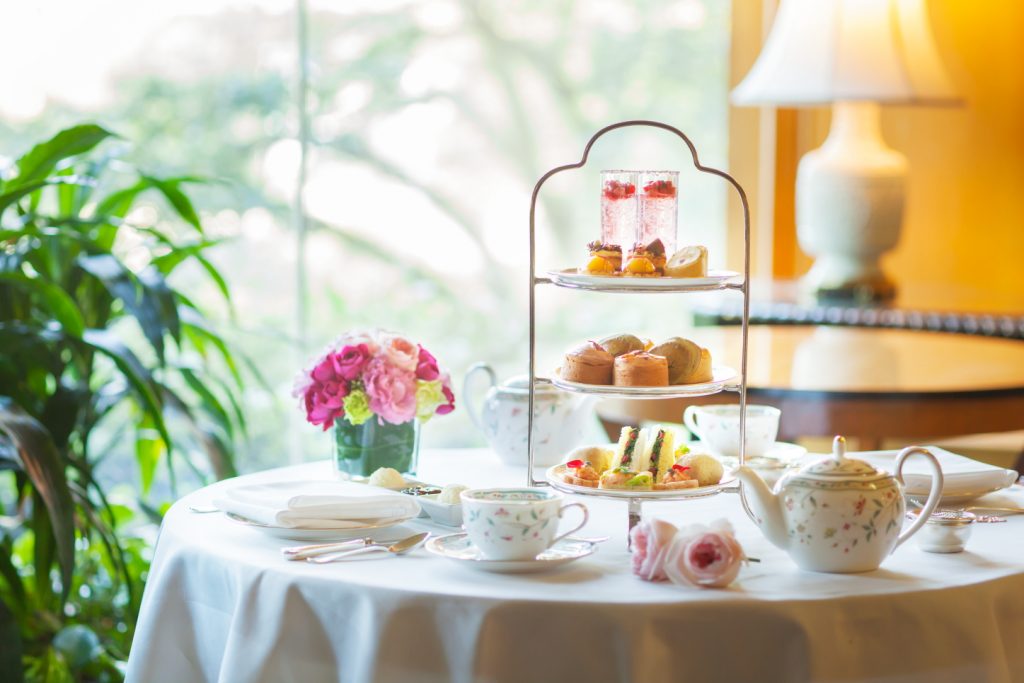 The lobby lounge, Le Jardin, is famous in Tokyo for its luxurious English afternoon tea and evening high tea menus that reflect the colors and flavors of each season. The elegant salon atmosphere of Le Jardin, and the garden view, make it the perfect place to unwind over a truly delicious cup of coffee, or tea, in the afternoon, or in the evening. Café Foresta, operating only on weekends and holidays, offers a charming environment for a relaxing teatime or a quick meal. 
Mucha-an, located by the path that leads to the Three-Story Pagoda, is specialized in traditional soba noodle dishes. It is ideal for a light lunch in a tasteful Japanese interior. The Bistro, on the other hand, is the best choice for casual dining at any time of the day. It offers a broad menu of à la carte dishes, including pizza, spaghetti, and light dishes.
Le Marquis is the main bar on the hotel precincts, located on the second floor. Guests can enjoy here over one hundred varieties of Martini cocktails, including an original Camellia Cocktail, in an intimate, elegant ambiance.
All the dining facilities within Hotel Chinzanso Tokyo can be used by both staying guests and customers who come only for dining. If you stay at the hotel, how about enjoying the hospitality and exquisite meals of a different facility at each moment of the day? Each meal will be a joy for all the senses.
Exciting Japanese Culture Activities for Guests
A stay at Hotel Chinzanso Tokyo is a chance to experience authentic Japanese culture. First, we recommend getting better acquainted with the enchanting Chinzanso Garden through a guided garden tour. Listening to the explanations on the way, you will realize that this garden is much more than an oasis in the heart of the city. Chinzanso Garden is deeply rooted in the history of Tokyo, being also home to monuments and national treasures brought here from other regions in Japan.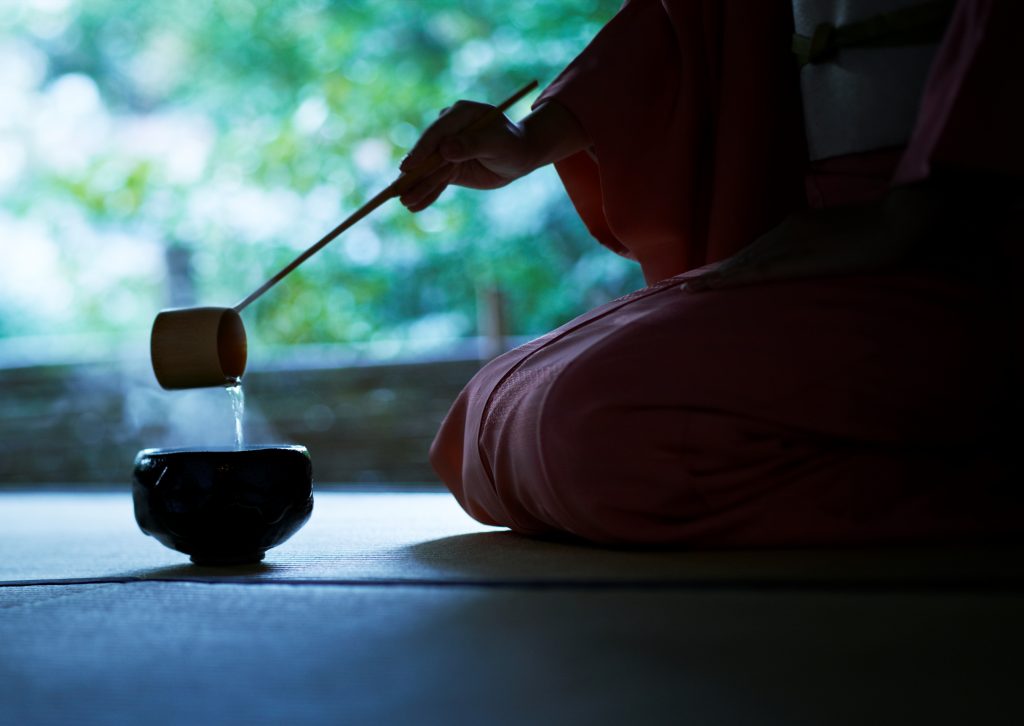 Taking part in a tea ceremony at Hotel Chinzanso Tokyo is a very special experience that will surely leave a lasting memory. Zangetsu, a historical tea ceremony house that has been designated a tangible cultural property of Japan, is located in Chinzanso Garden. Guests can attend an authentic tea ceremony held at Zangetsu by a master and learn firsthand the essence of this art. To participate in a tea ceremony, held in a historical building of national importance, is an extremely rare opportunity reserved exclusively for the guests of Hotel Chinzanso Tokyo. 
We suggest combining this experience with a kimono fitting so that you can enjoy the tea ceremony in comfort, fully dressed up to the occasion. The kimono fitting and the tea ceremony would last together for about two hours. Please note that you can enjoy wearing a kimono as a separate activity and take a walk in the garden while having your photograph taken. The kimono can be returned at check-out so that you can take your time to enjoy wearing it at leisure.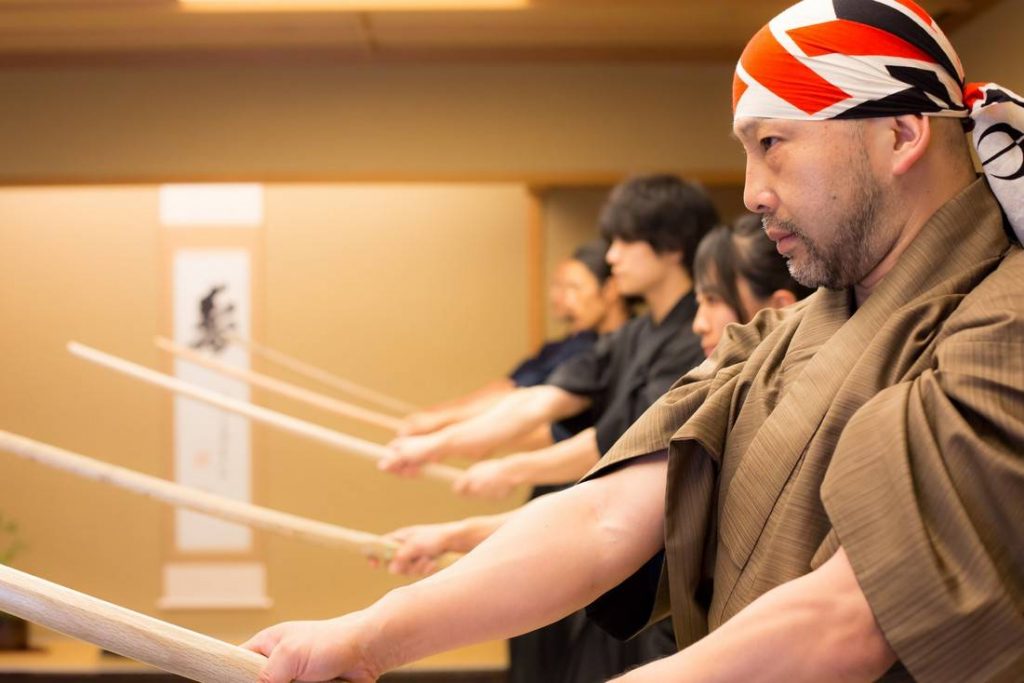 Another popular activity is the samurai experience. Guests have the chance to learn the basics of Japanese swordsmanship from a martial arts master. Those who wish can try on a samurai costume. An additional option is watching a private samurai show performed by a professional. If you are interested in Japanese martial arts, this will surely be an inspiring and unforgettable encounter with the spirit of bushido.
Those interested in Japanese cuisine and confectionery can try their hand at baking sembei rice crackers. Workshop participants will be guided by taxi to a local rice cracker specialty shop located in nearby Iidabashi. After learning the secrets of sembei baking, participants bake ten rice crackers to take with them as a souvenir. Of course, you can taste the sembei on the spot along with delicious kelp tea. This activity is a chance to learn about traditional lifestyles and artisan crafts that have been treasured by the Japanese people for centuries.
Hotel Chinzanso Tokyo offers many other exciting Japanese cultural activities. Please note that these activities are available only for staying guests and are provided upon prior reservation.
Tips for Enjoying Your Stay to the Fullest
A stay at Hotel Chinzanso Tokyo is a precious experience that should be enjoyed at leisure. Every moment you spend at the hotel  is a chance to enrich one's heart through new discoveries about nature and Japanese culture.
We suggest arriving a little earlier before check-in and taking a walk in the garden. The sea of clouds, a new feature of the garden introduced from October 1, 2020, can be enjoyed several times a day in the morning, around noon, and in the evening. During the daytime, you have the chance to experience the veil of mist while walking in the garden.
After check-in, how about refreshing yourself with afternoon tea at Le Jardin? Guests can use the afternoon hours for a walk in the neighborhood, visiting the lovely gardens and museums in the Bunkyo ward. Alternatively, you can relax at the excellent spa facility of Hotel Chinzanso Tokyo.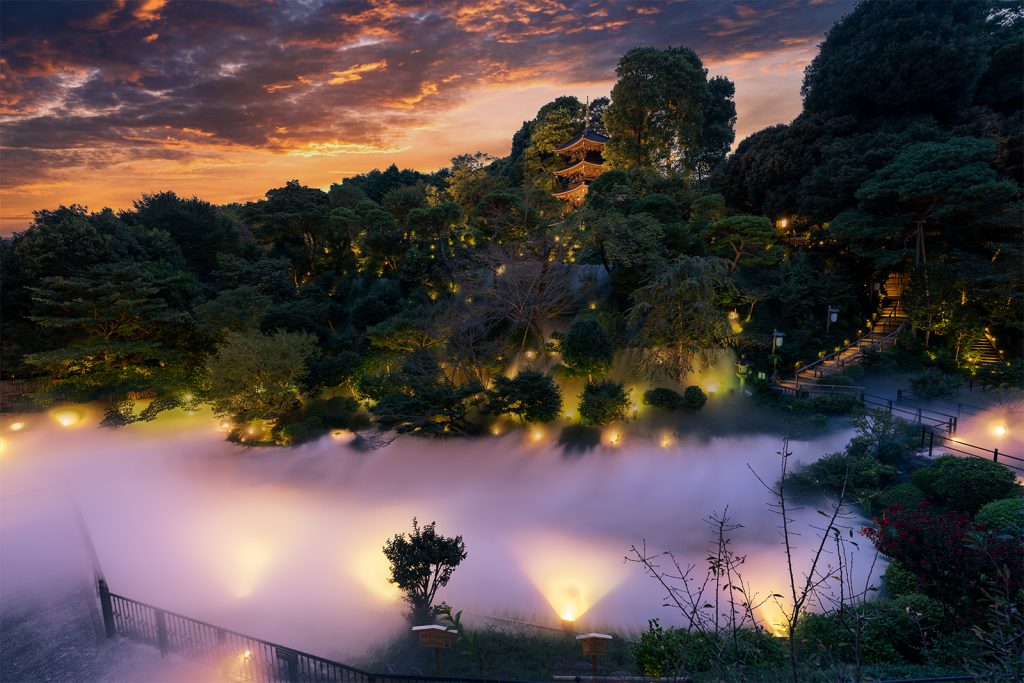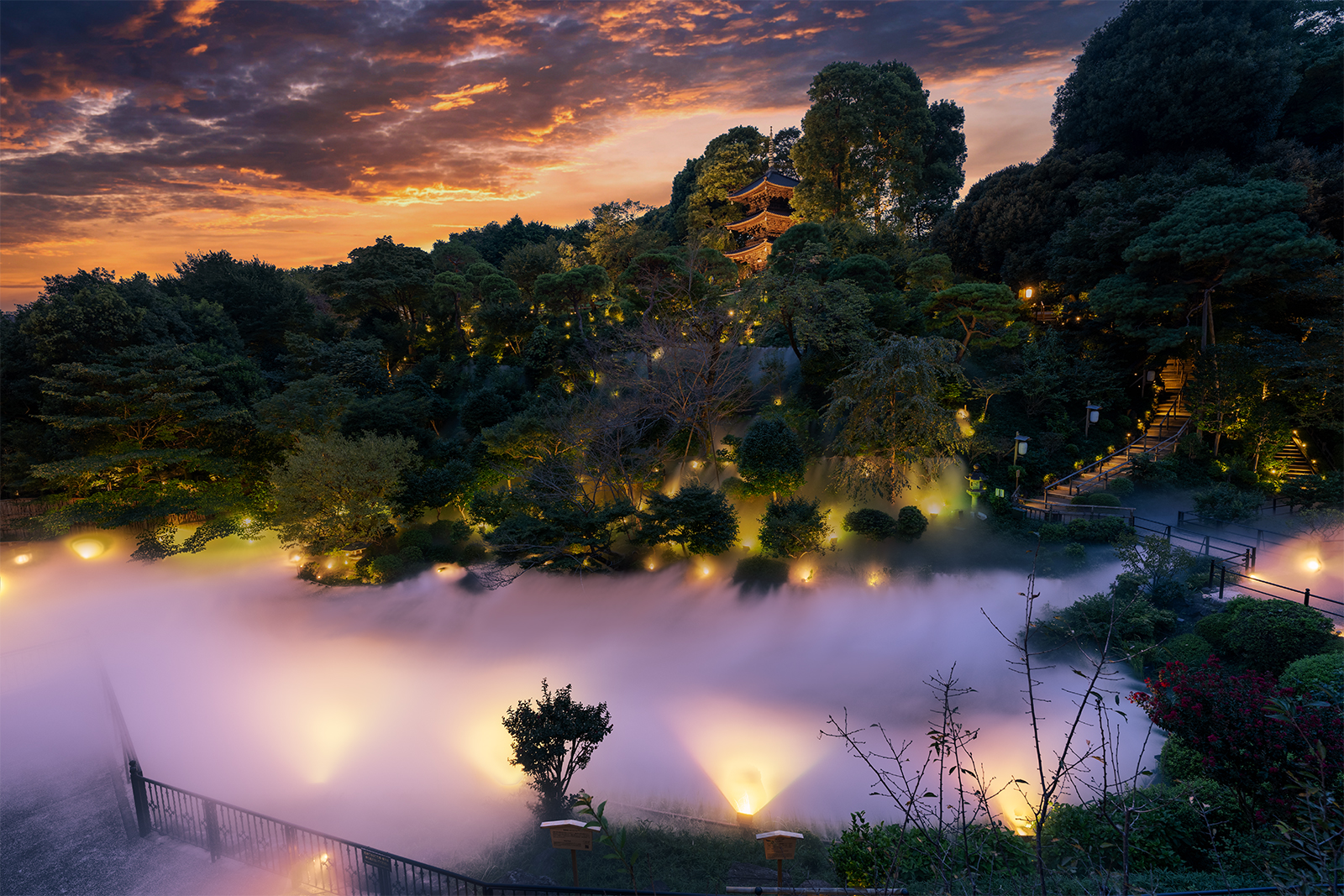 After a leisurely dinner, we suggest unwinding at Le Marquis or taking an evening walk amid the one thousand lights of the garden. Before going to bed, you can relish the view of the illuminated garden from your room.
We suggest getting up early for a morning garden walk and taking in the fresh air, the chirping of the birds, and the sounds of flowing water. The sea of clouds in the morning looks dreamlike, as the mist particles reflect and enhance the sunlight beautifully. Take your time to enjoy breakfast and the time until check-out at leisure. Before checking out, how about dropping by the souvenir shop of the hotel to purchase a memento of your stay? There is a wide selection of charming original camellia-themed souvenirs. 
After check-out, do enjoy lunch at one of the restaurants in the garden. The day you spent at Hotel Chinzanso Tokyo will most surely become a truly memorable experience.
An Unforgettable Stay in the Heart of Tokyo
We hope that you will enjoy your stay at Hotel Chinzanso Tokyo, a place that offers a chance to relish nature in the heart of the metropolis. Chinzanso Garden is at the same time a historical place and the activities that guests can enjoy in this garden will undoubtedly enrich one's heart through a deeper understanding of Japanese history and culture.