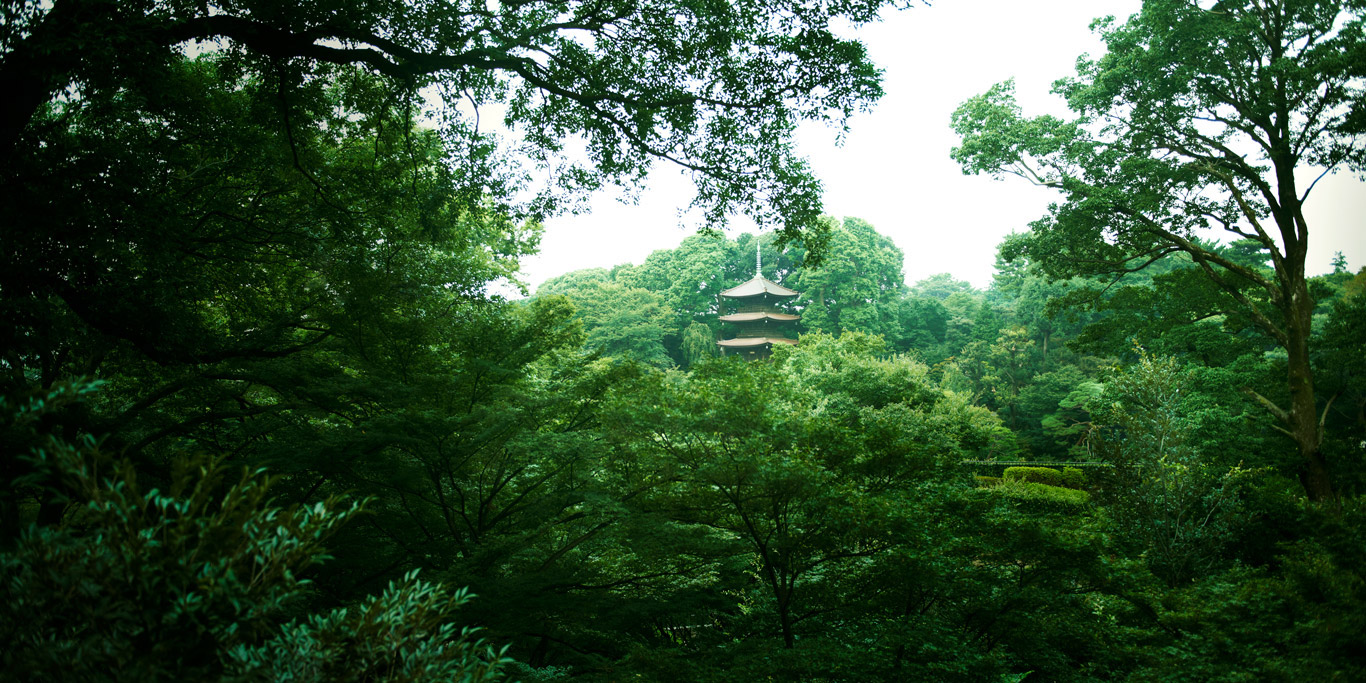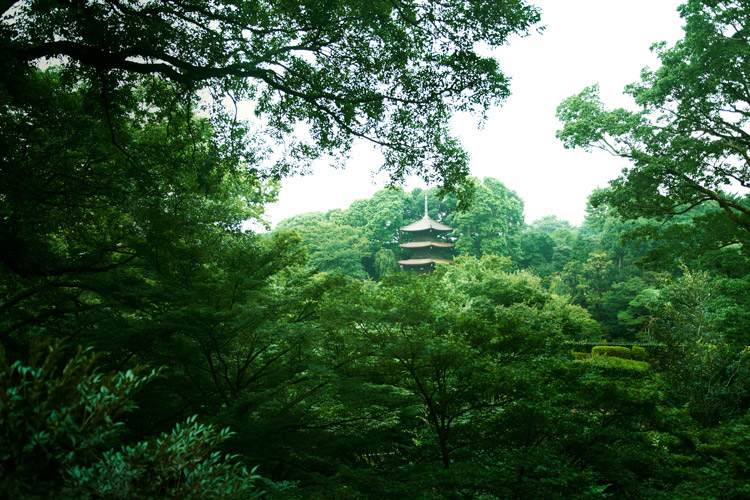 庭園&活動
東京樁山莊大飯店的「現在」、看點
Host Your MICE Event at Tokyo's Hotel in the Clouds | Unique Venues at Hotel Chinzanso Tokyo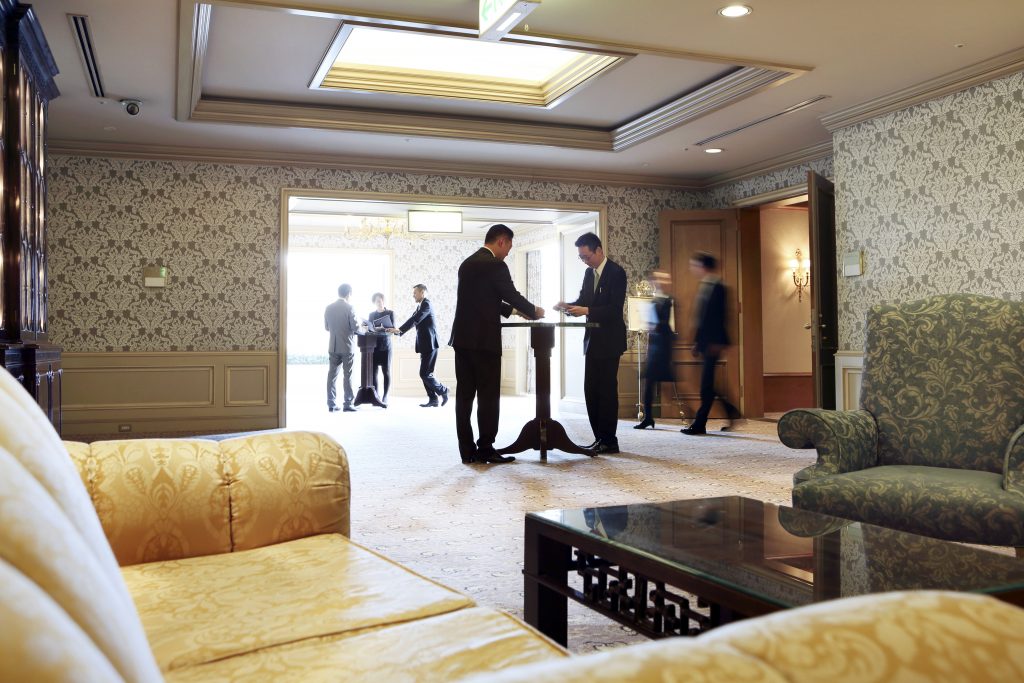 An event at Hotel Chinzanso Tokyo means endless options and opportunities. An international conference with outstanding after-event activities that allow participants to experience authentic Japanese culture, an outdoor cocktail party with splendid views of a Japanese garden enshrouded in a sea of clouds, or a special anniversary party in the elegant but cozy interior of a luxurious hotel room… If you are an event planner looking for a truly special venue in Tokyo, we have great news for you! In addition to luxury accommodation, Hotel Chinzanso Tokyo operates a wide range of sites and halls that are ideal for MICE (Meeting, Incentive travel, Conventions or Events/Exhibitions), parties, gala dinners, and other types of events.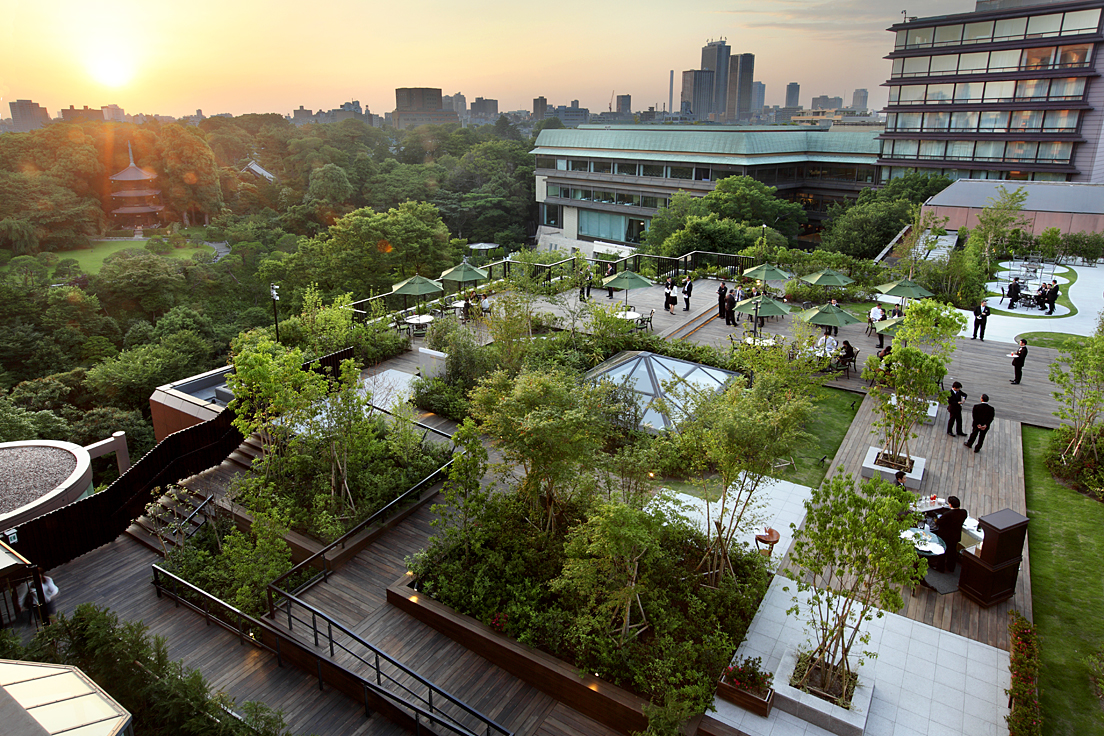 Besides classic venues of various sizes, our hotel also offers the possibility of hosting events at unconventional sites, including premium guestrooms, restaurant halls, terraces with garden views, and other spaces. 
Chinzanso Garden, with a history that is just as old as that of modern Tokyo, is full of monuments and seasonal appeals that represent the essence of Japanese culture. The origins of this garden go back to the early Meiji period (1868-1912) when Duke Yamagata Aritomo (1838-1922), an influential political figure of the time, built his residence on the historical Camellia Hill and named it Chinzanso. Many politicians, business people, and even Emperor Meiji visited Chinzanso at the Duke's invitation and held meetings that influenced the future of Japan. Chinzanso Garden and its historical assets have been passed down to the following generations, and have been part of Hotel Chinzanso Tokyo for the past 70 years.
With 267 guest rooms and suites, nine dining facilities, 38 multi-function venues, and a vast garden, Hotel Chinzanso Tokyo aims to be a one-stop venue in Tokyo for accommodation, dining, relaxation, and any type of business event. If you wish to welcome and entertain your guests at a venue with a distinctive Japanese atmosphere, then consider holding your event at Hotel Chinzanso Tokyo. All of our venues are managed with environmental consideration and are in line with sustainable development goals. 
In this article, we introduce the features of the conventional venues available at Hotel Chinzanso Tokyo, along with a series of unique venues for memorable, once-in-a-lifetime events. Please use this information as reference if you plan to hold a MICE event in Tokyo. 
Venues for Meetings, Conferences, Banquets, and Other Business Events in Tokyo
Hotel Chinzanso Tokyo has 38 multi-function venues that can be used for events of any scale. There are four large halls measuring over 300 square meters, 20 mid-sized venues (19 banquet halls and one conference room), and 14 spaces for smaller events. For many of these halls, the seating can be arranged in a banquet style, buffet style, theater style, or classroom style, depending on the features of the event. These spaces are equipped with wide screens, audio and video equipment, as well as internet access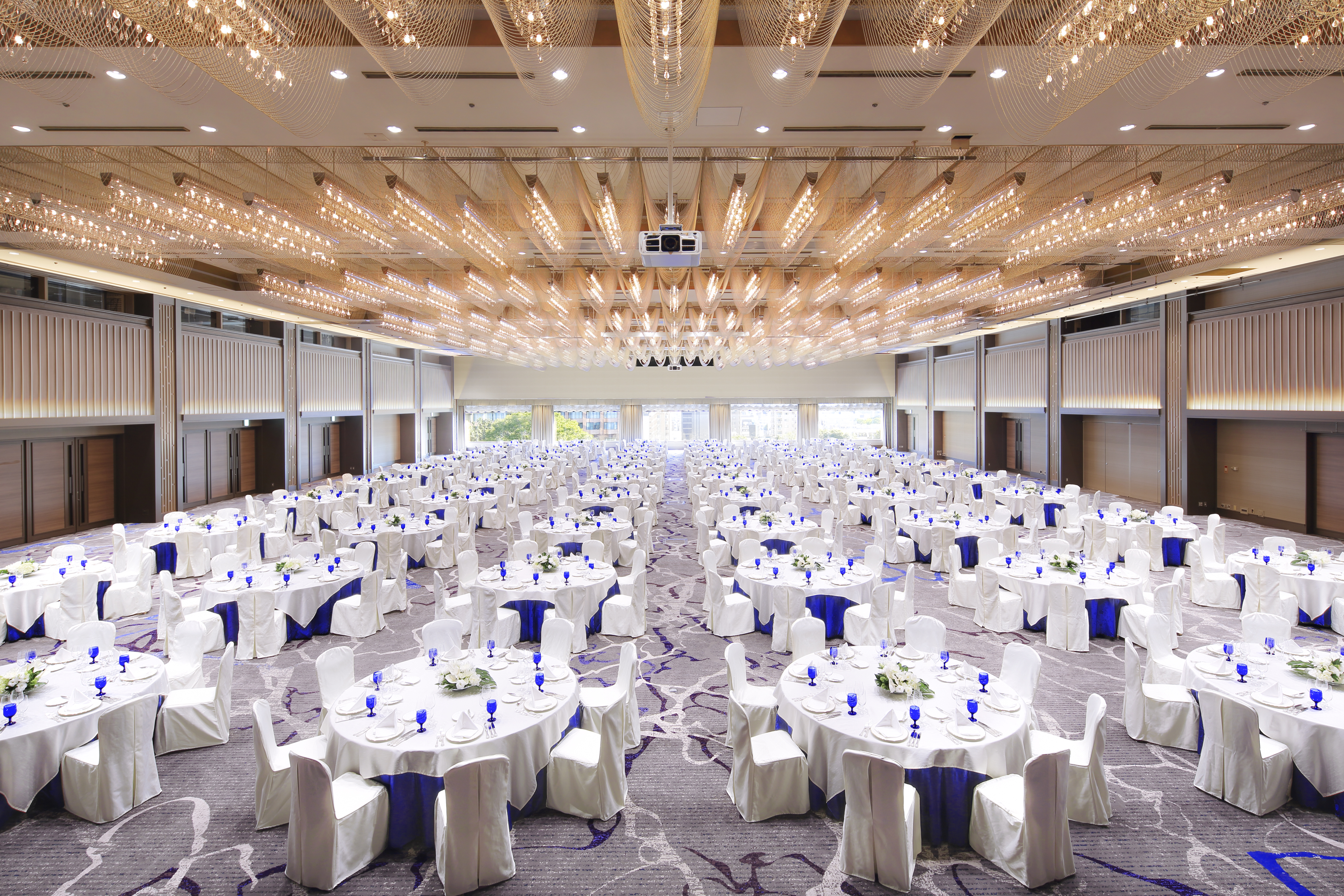 Grand Hall TSUBAKI is the largest venue available at Hotel Chinzanso Tokyo, measuring 1,350 square meters. This hall accommodates up to 2,000 participants when the seating is arranged amphitheater style or buffet style. A multi-purpose hall with this capacity and large windows that let in natural light is rare even in Tokyo. Equipped with a built-in stage, this hall is ideal for conferences, meetings, parties, or any type of large-scale gathering.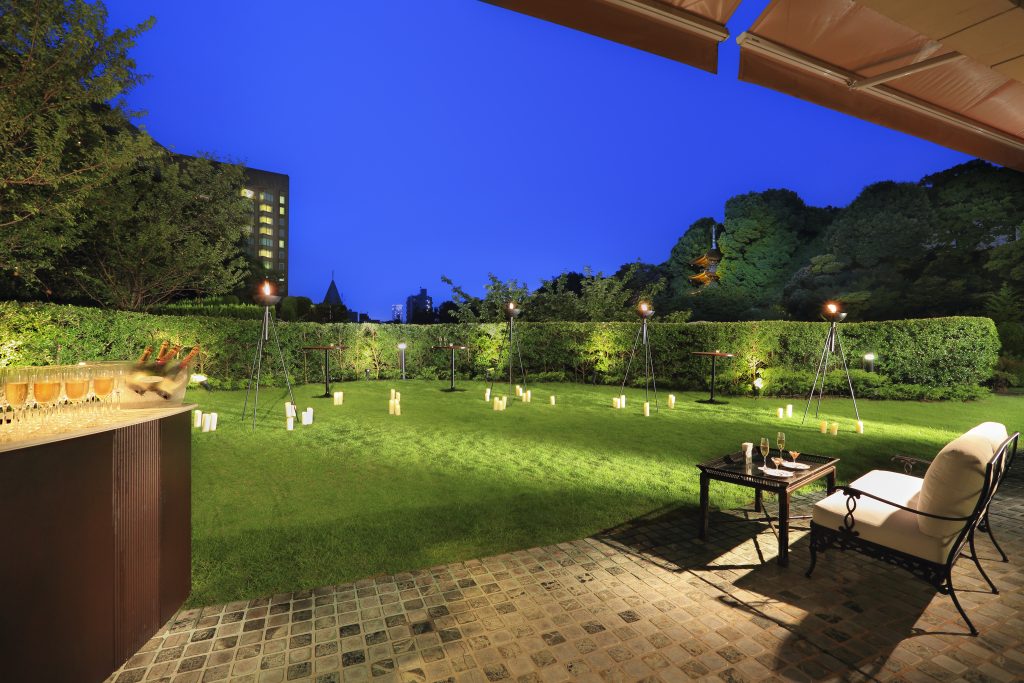 One of the most spectacular large-sized venues is KOCHO, a 333 square meter hall with a gorgeous chandelier ideal for banquets, dining parties, and shows. The hall opens up to a private garden with a view of the Three-Story Pagoda, making it a unique venue fit for open-air parties, too. 
The 98-seat Amphitheater, with a semi-circular, elevated structure is a rare venue in Japan.Ideal for seminars and congresses of all kinds, this hall is equipped with a simultaneous interpretation booth as well as LAN jacks and power outlets at each seat, making it the best choice for international conferences. Participants can unwind by taking a stroll in the garden or enjoying an exquisite Japanese meal after the event.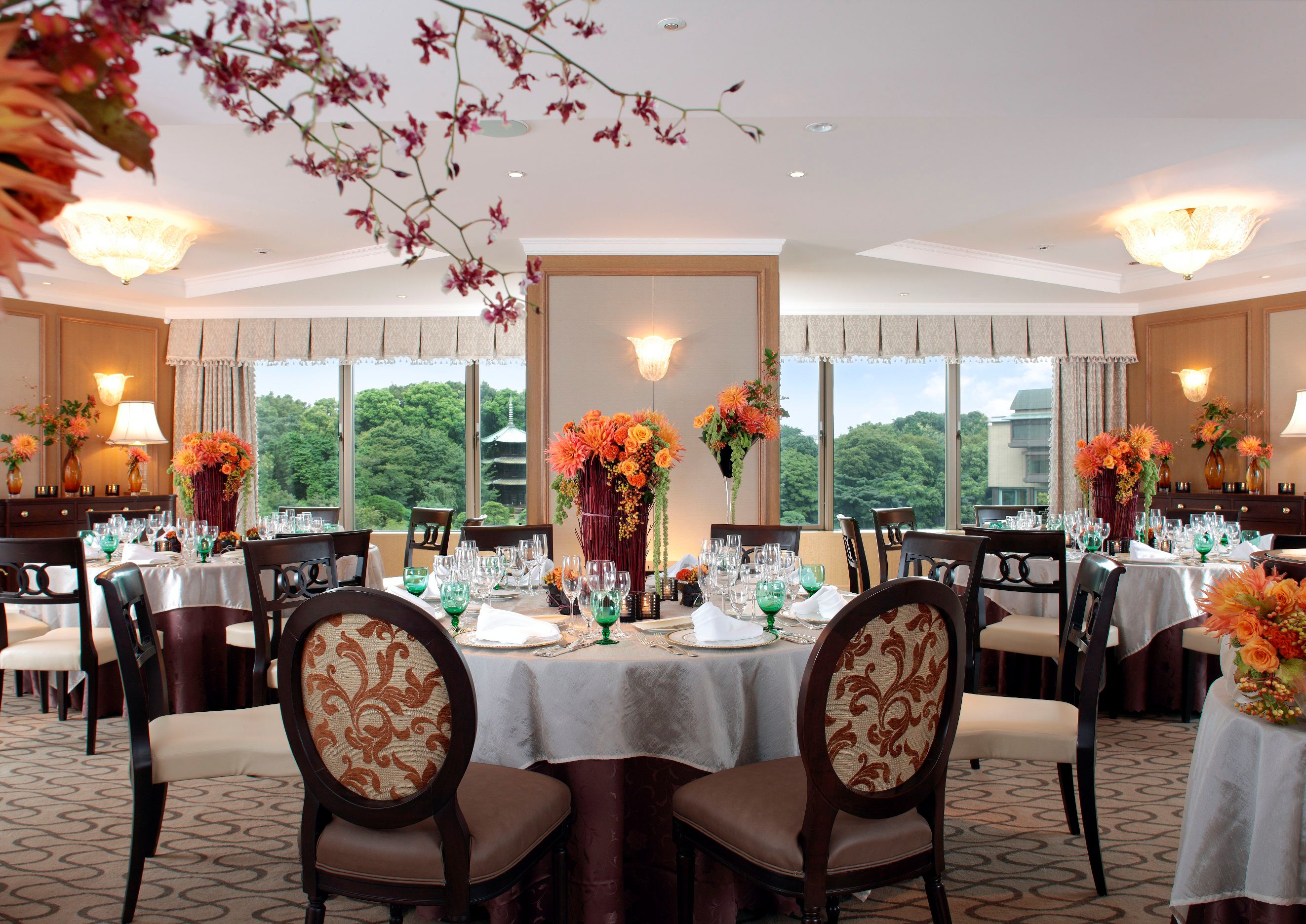 The small-sized venues are ideal for private parties and gatherings. One example is the Mahogany Room, a cozy, elegant hall that accommodates 30 to 50 guests. Situated on the fourth floor, the hall opens up to magnificent garden views that will make any party or event a truly memorable one.
For details on each venue available for MICE events, wedding banquets, and parties, please refer to this page.
Unconventional Uses of a Unique Venue for Special Events
From special anniversary parties to workshops, tastings, and shows, a wide range of private and public events can also be held in hotel guestrooms, private spaces within the restaurants, on the terrace, or in the garden. Projectors, wide-screens, and all types of audio and video equipment can be installed according to the needs of the event. We introduce the features of some of these special venues below.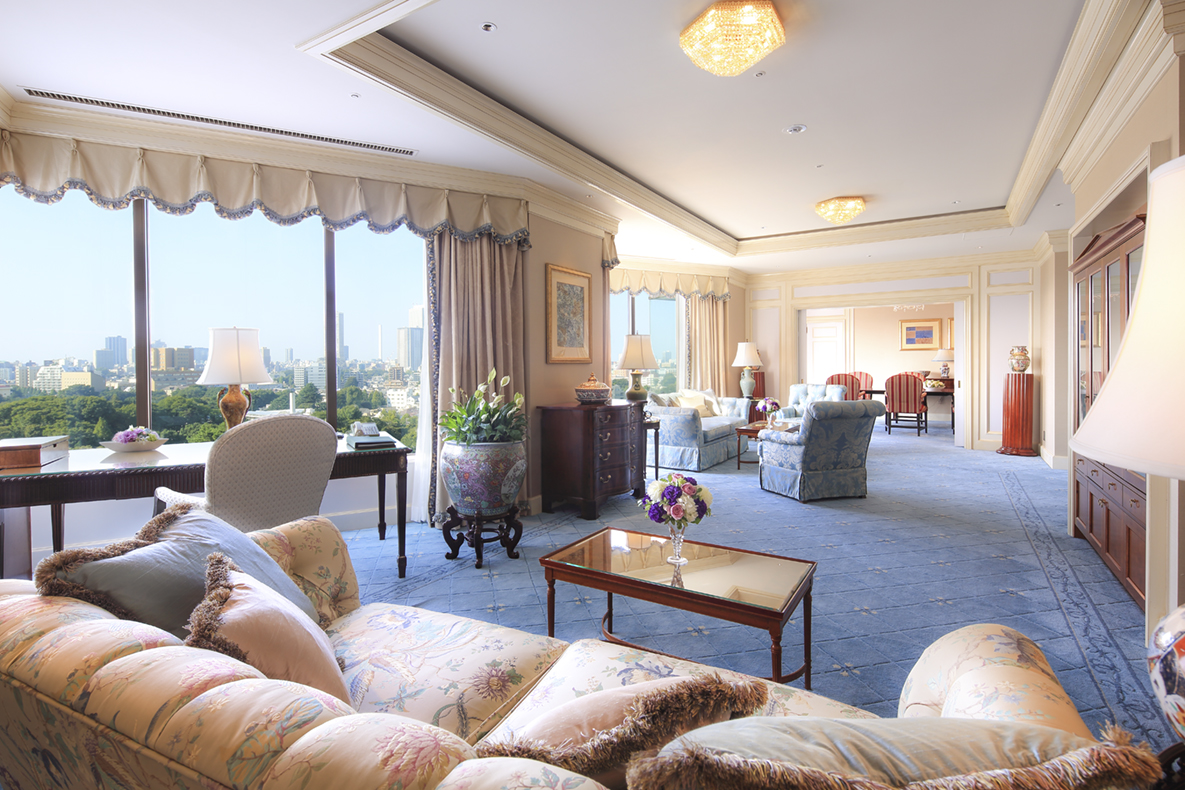 The Imperial Suite (280 square meters), the largest guest room at Hotel Chinzanso Tokyo, can be rearranged to host business meetings, jewelry and apparel exhibitions, private anniversary parties, and events such as esthetic treatments or cosmetic samplings. This suite commands a splendid view of the garden and Tokyo's cityscape, turning any event into an experience like no other.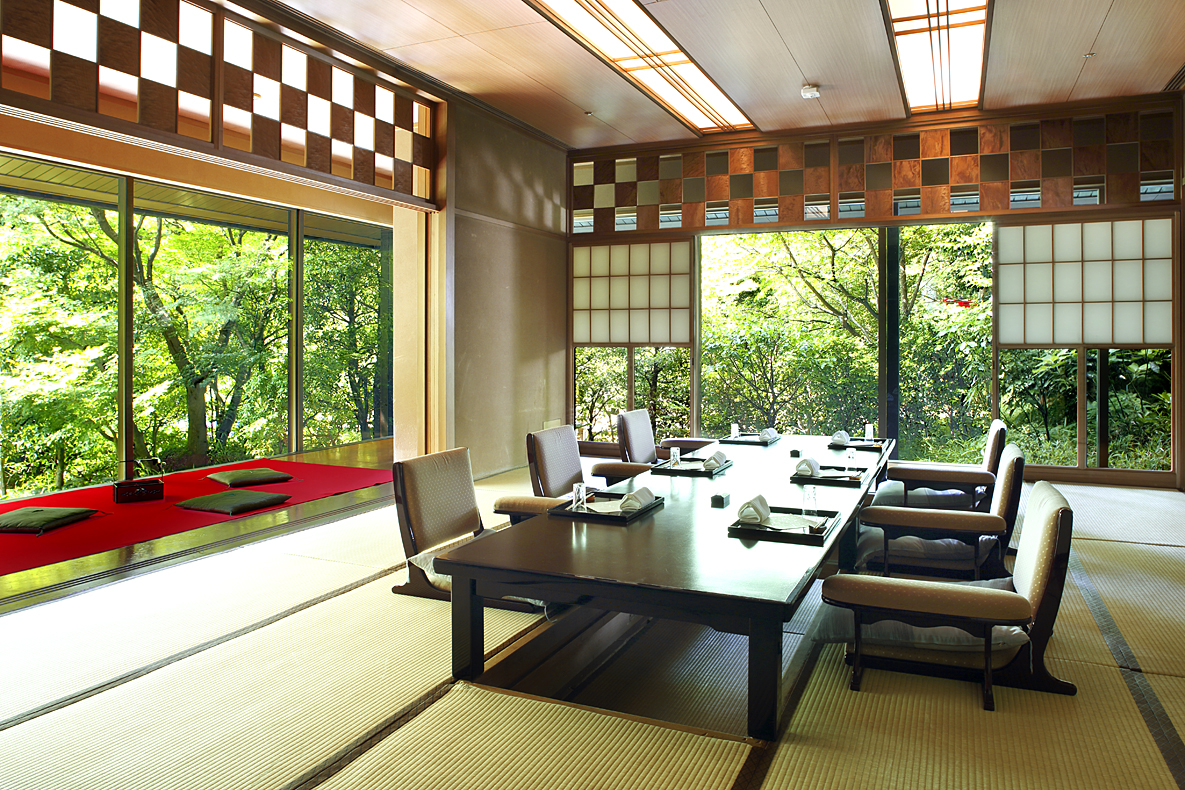 Another type of special venue can be found within Ryotei Kinsui. Kinsui specializes in refined kaiseki-style cuisine, which is best enjoyed in a traditional Japanese interior that allows guests to relish the seasonal scenery. Yachiyo is a private room within Kinsui that accommodates up to 60 guests. A room with tatami flooring, sliding doors, and a veranda that opens up to the garden, Yachiyo is the perfect venue for Japanese cuisine or sake tastings, cultural workshops, or any event for international guests who wish to experience Japanese culture.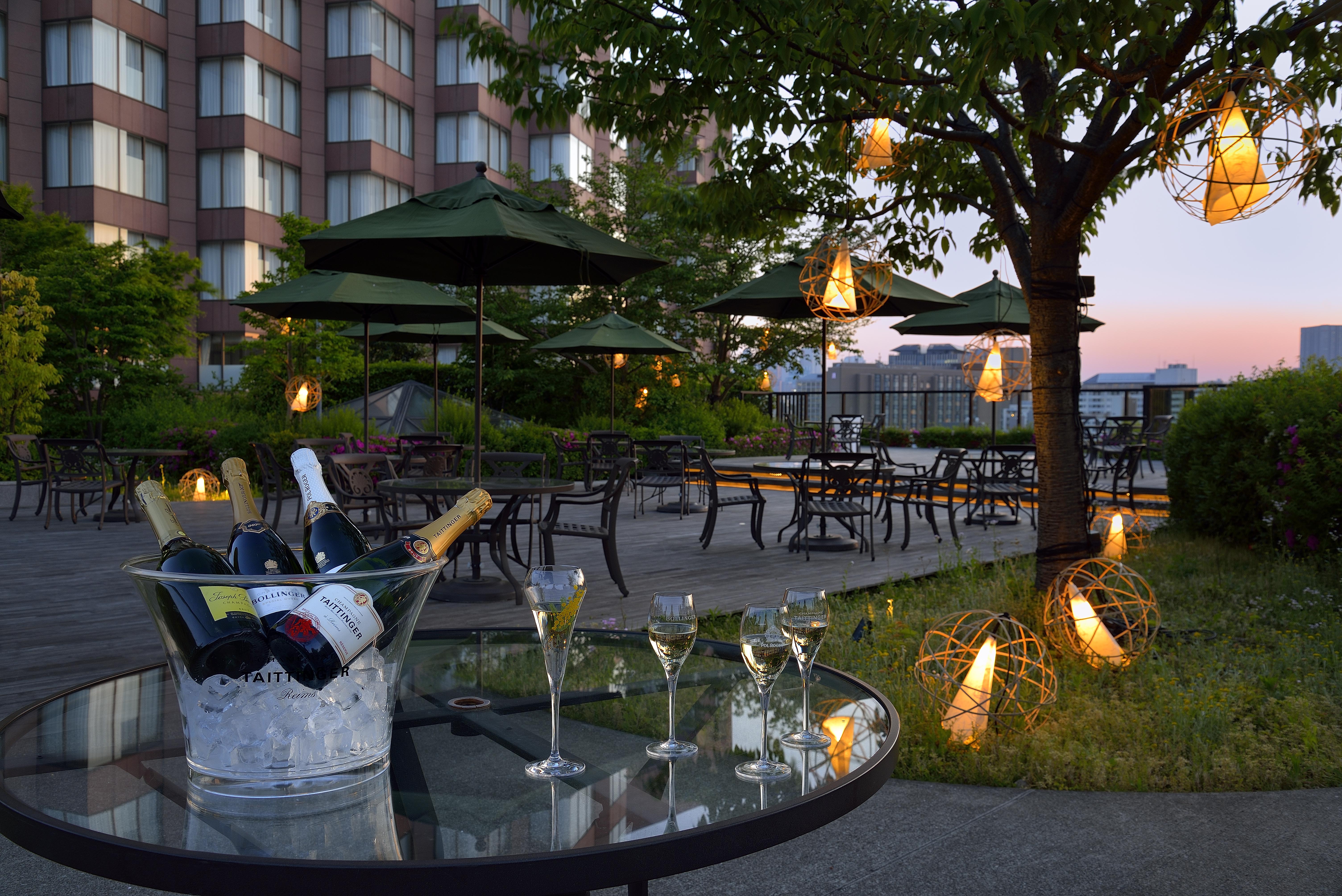 The rooftop space, Serenity Garden, as well as other terraces, are also available. These locations are particularly fit for cocktail parties, yoga classes, or summer evening events. We can install lights and sofas for a relaxed, dreamlike atmosphere.
Certain areas of Chinzanso Garden can also be used for outdoor events and exhibitions, such as the Verde Terrace and Sky Terrace. If you wish to hold an event in the open, surrounded by historical monuments and the sounds of nature, then do inquire about the possibility of using the garden. The Tokyo Sea of Clouds makes a regular appearance every day, adding a distinctive charm to any event held outside.
Experience Japanese Culture without Leaving the Event Venue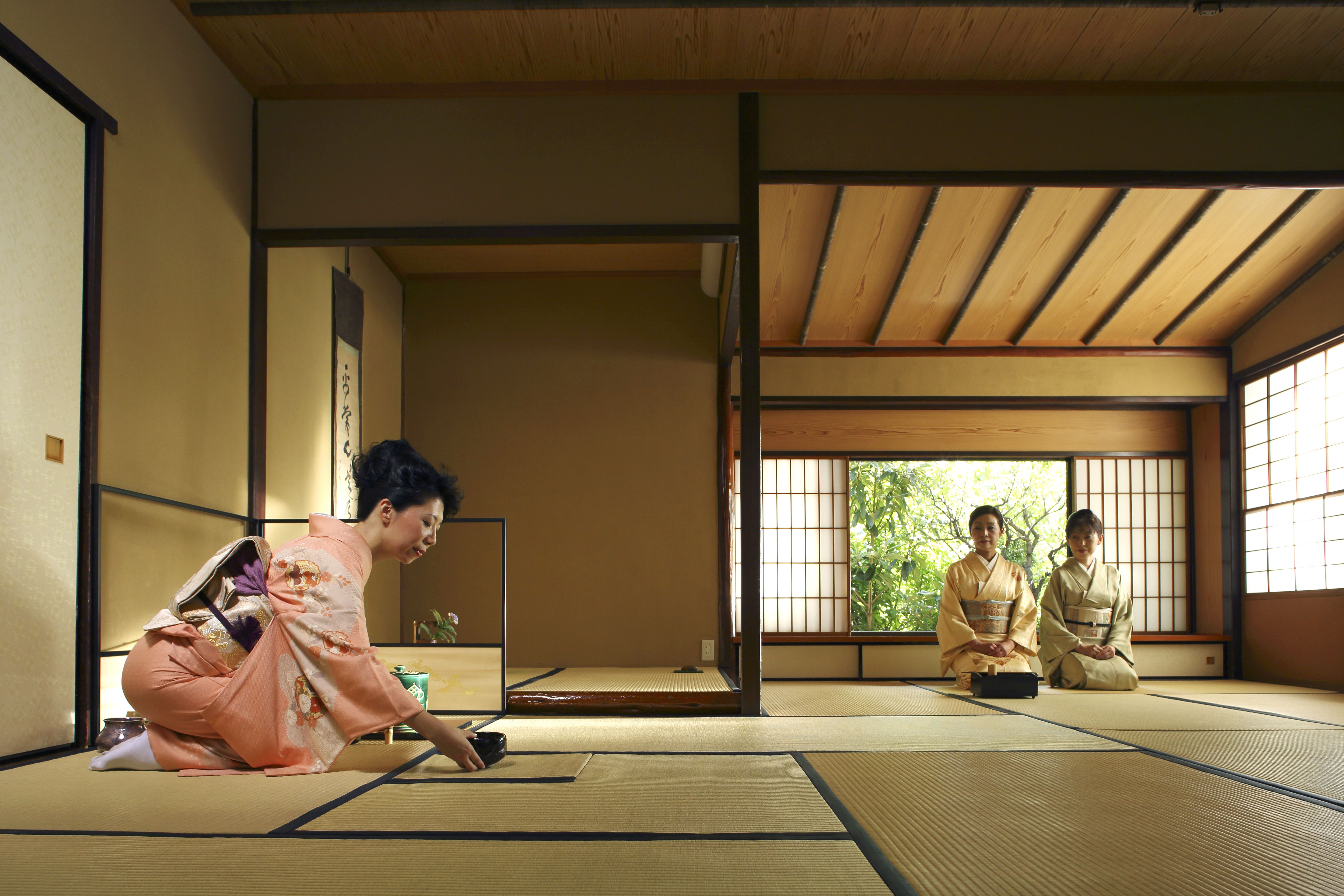 Cultural events such as tea ceremonies can be held at Zangetsu, a historical tea room designated an Important Cultural Asset of Japan. Zangetsu is a century-old building designed specifically for tea ceremonies, and is surrounded by greenery and moss, the ideal environment for this particular type of gathering. A tea ceremony held at Zangetsu will surely be an unforgettable experience for all participants!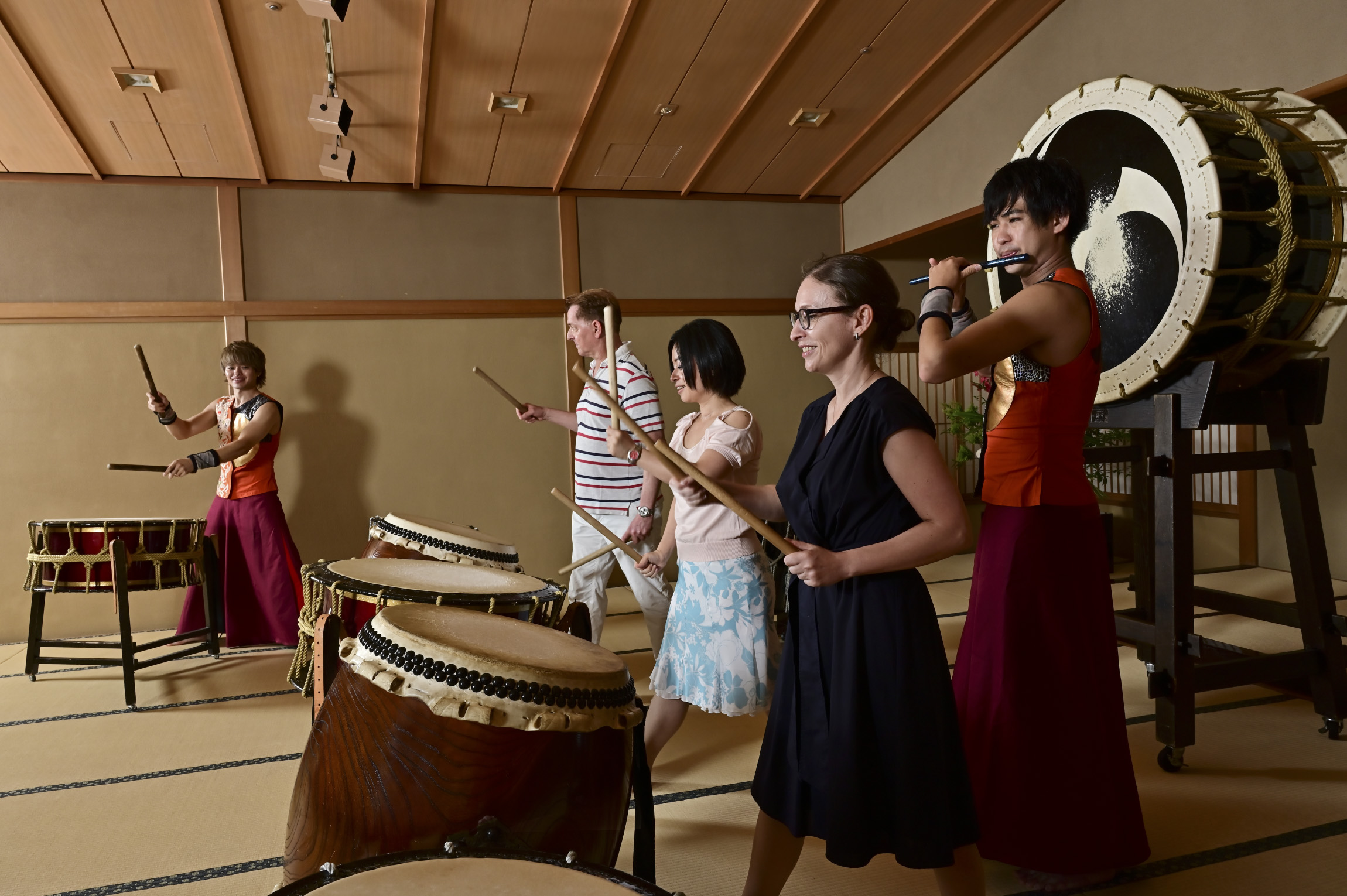 Hotel Chinzanso Tokyo offers various Japanese cultural activities for groups and as after-hour leisure for business events. These include taiko drum and samurai experiences, traditional craft workshops where participants make Japanese fans, fabric flower accessories, or origami works, as well as calligraphy and haiku workshops. The hotel can not only provide the space for these types of events, but can also organize them on behalf of guests.
Hotel Chinzanso Tokyo also provides catering services for events held at other venues in the Tokyo area. Our experienced chefs can prepare a wide variety of Japanese and international cuisine for buffet-style gatherings. We can modify the menus to accommodate any type of dietary preferences or restrictions, from vegan and vegetarian to Halal cuisine.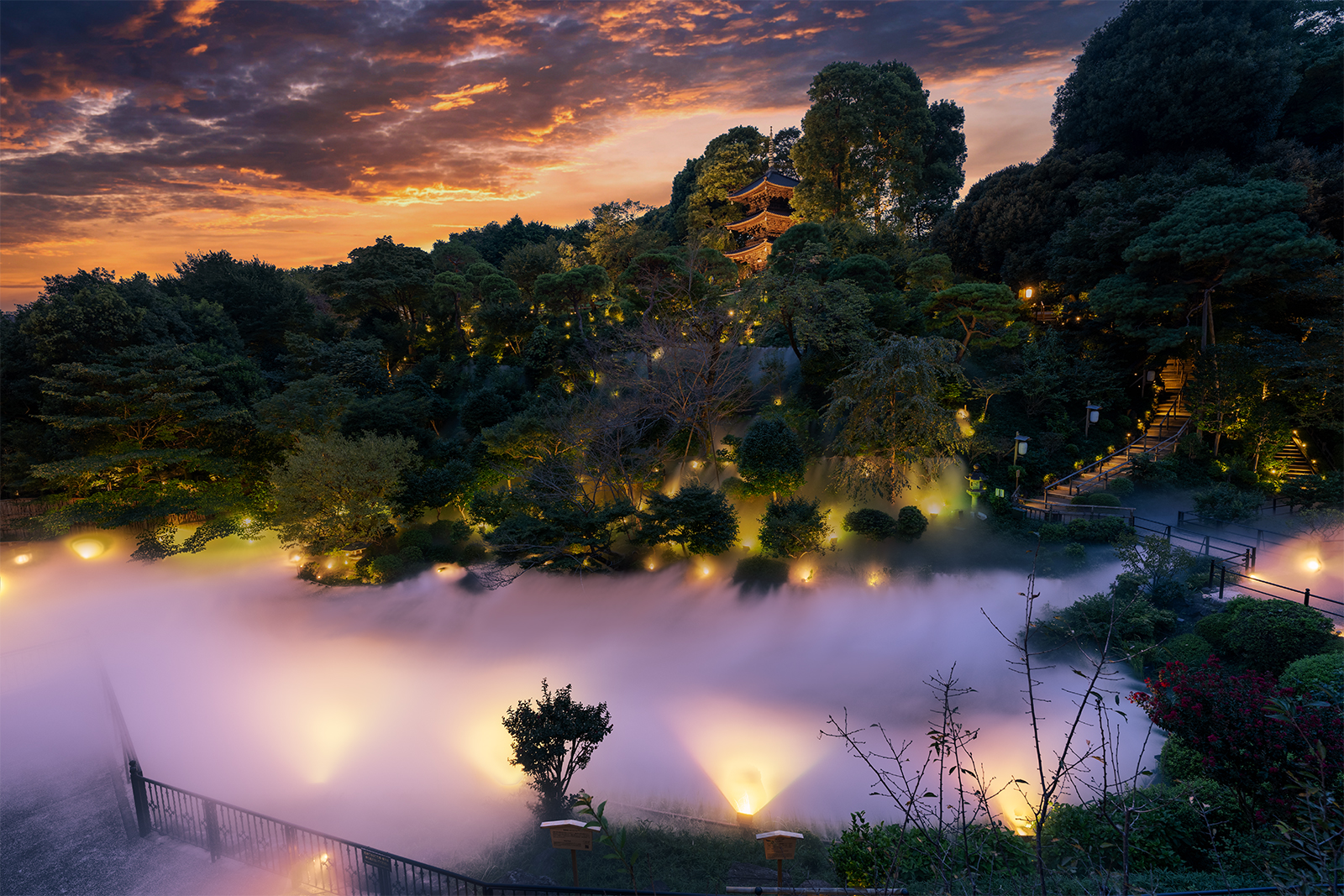 Hotel Chinzanso Tokyo is celebrating its 70th anniversary in November 2022. Due to the Tokyo Sea of Clouds, which was added as a feature of Chinzanso Garden in 2020, our guests and visitors can enjoy the feeling of being inside the clouds during a garden walk. In the evenings and at night, the garden is lit up with LED lights that enhance the magical atmosphere.
Additionally, what makes Hotel Chinzanso Tokyo particularly appealing as a venue for special events are its impeccable services and cherished history inherited from its predecessors. Chinzanso Garden has been a part of Tokyo's history for the past 150 years. We invite you to experience the unique atmosphere of this location through events held at Hotel Chinzanso Tokyo. If you'd like to hold your next event at one of our venues, please contact our International Sales division by email (internationalsales@hotel-chinazanso.com) or fill in the inquiry form on our website.
Updated on August 4, 2022