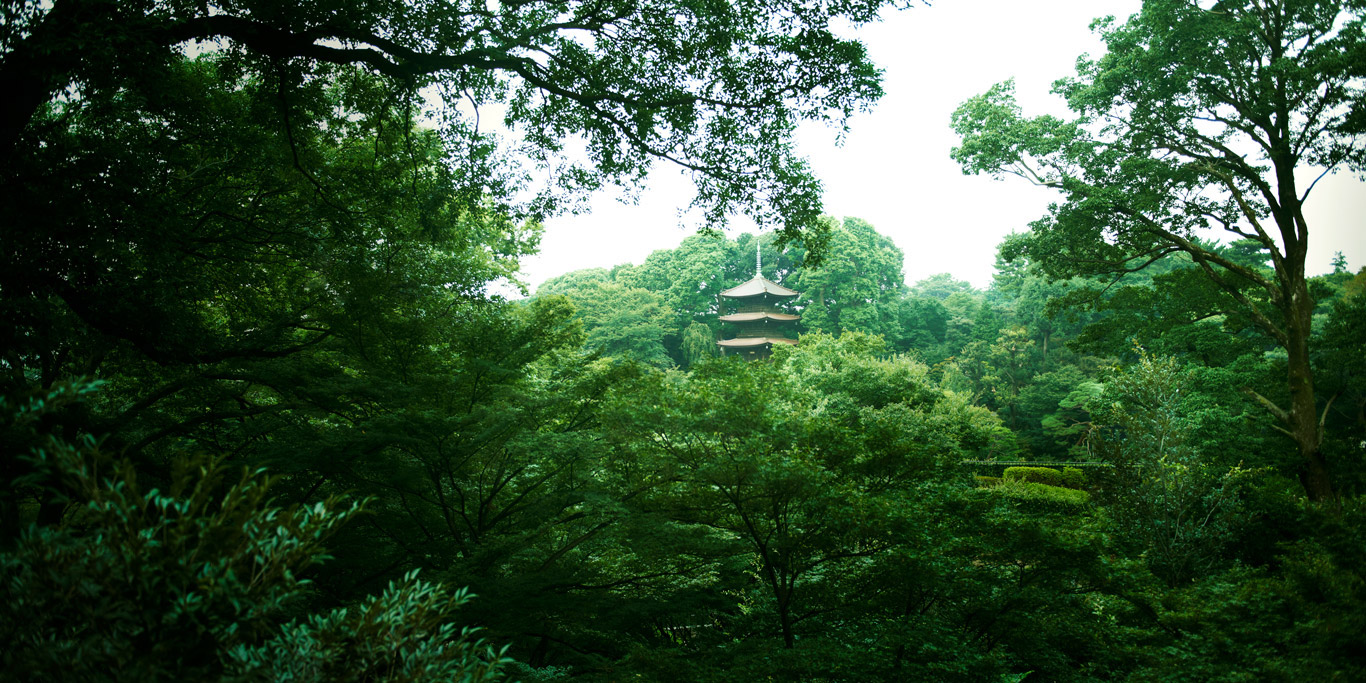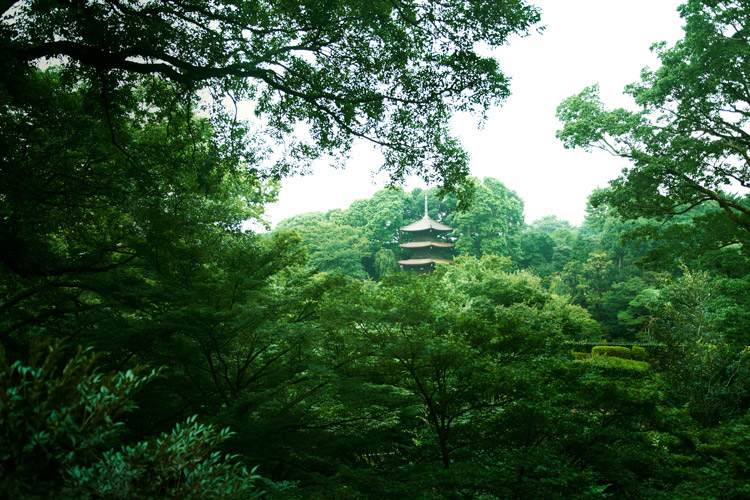 정원・액티비티
호텔 진잔소 도쿄의 '지금'・볼거리
The Highlight of Autumn 2021 - Special Events and Sea of Clouds at Hotel Chinzanso Tokyo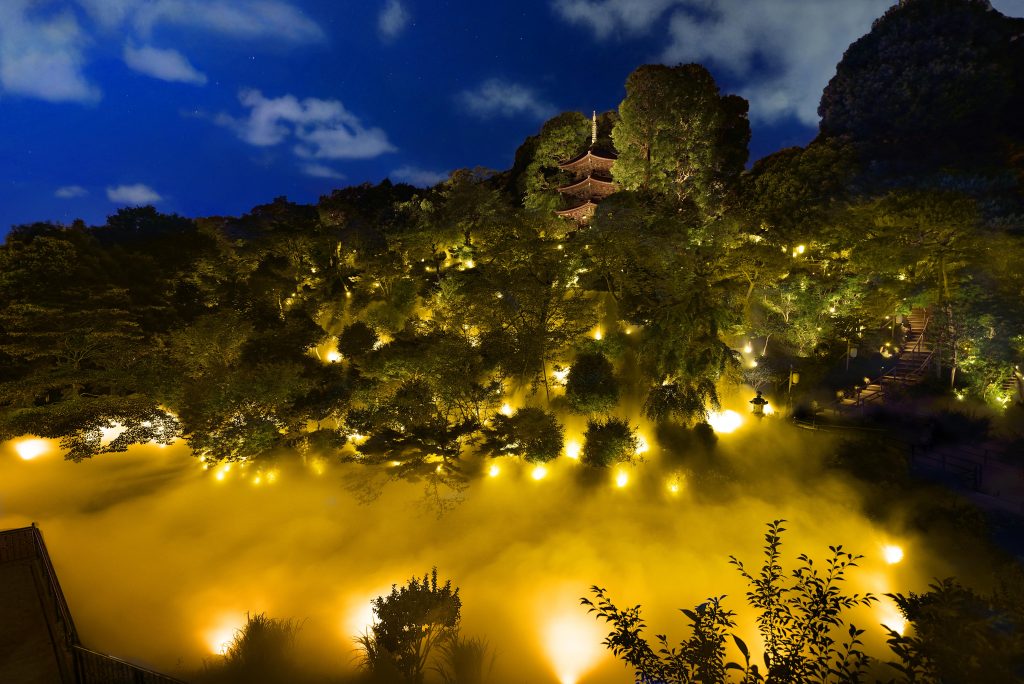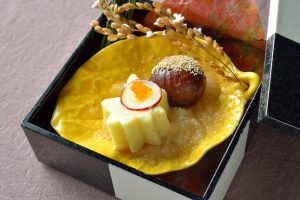 The phrase "autumn in Japan" conjures up images of stunning foliage and culinary delights specific to the harvest season. But fall in Japan is all that and much more! It's actually an experience that appeals to all senses, including sound–the nights are filled with the sounds of insects like crickets and grasshoppers, and smell–it's the season when trees like the osmanthus go into bloom, filling the air with a sweet fragrance.
For the fall of 2021, Hotel Chinzanso Tokyo has prepared a series of events that let guests and visitors relish autumn through all five senses. These include a collaboration with L'Occitane to create a scented version of the Tokyo Sea of Clouds, an osmanthus-themed dinner menu, and special spa treatments, as well as lunch menus inspired by the travels of haiku poet Matsuo Basho. 
Osmanthus-scented Sea of Clouds! A Collaboration with L'Occitane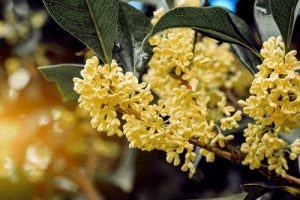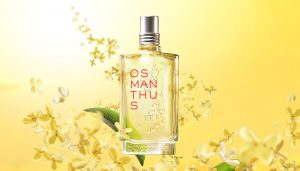 Few fragrances are so dear to the Japanese as the golden flowers of sweet osmanthus (kinmokusei), which can be seen in parks and groves in late autumn. The scent of osmanthus evokes a feeling of nostalgia and lingering memories of a loved one, which is why it's often mentioned in the lyrics of love songs.
Hotel Chinzanso Tokyo collaborated with renowned cosmetics maker L'Occitane en Provence to offer exquisite body treatments at the hotel's spa facility, YU, THE SPA. In order to celebrate the release of L'Occitane's Osmanthus fragrance, a series of special events will be held at Hotel Chinzanso Tokyo, inviting staying guests and visiting customers to relish this scent.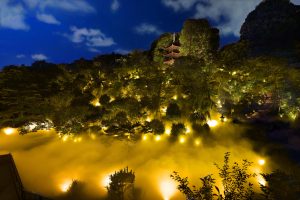 For the first time, the Tokyo Sea of Clouds will be scented with the lovely fragrance of L'Occitane's Osmanthus! Between September 21 and November 10, visitors to Chinzanso Garden can enjoy the Osmanthus fragrance through the sea of clouds. 
Visit the garden around 11:10 or 14:10 during the day, or every half hour from 19:00 to 21:00 in the evening, and you'll find yourself enshrouded by the fragrant sea of clouds! In the evening, the sea of clouds will be lit up in the deep golden hues of osmanthus flowers. These visual and olfactory stimuli will take you on a journey through the world of sweet osmanthus.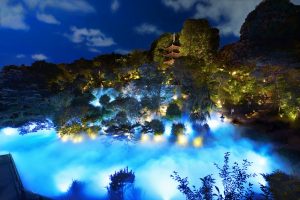 Every night at 19:15, 19:45, 20:15, and 20:45, garden visitors can enjoy a special light-up called Tokyo Sea of Clouds: The Mediterranean under Moonlight! The lights will transport you emotionally to faraway lands–a true blessing now when traveling abroad is still difficult.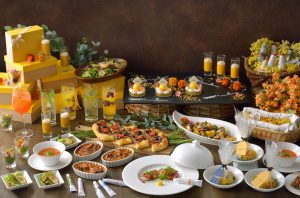 L'Occitane × Tokyo Sea of Clouds Garden Terrace Dinner is a string of special dinner events held from September 21 through October 26. This dinner can be enjoyed by guests and visitors alike. The menu, created by one of the hotel chefs, was inspired by the nature and cuisine of Provence and celebrates the release of L'Occitane's "Osmanthus" fragrance.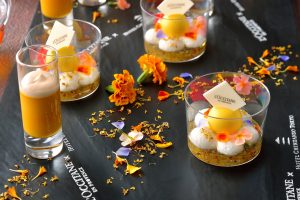 The menu includes Nicoise salad, pissaladière, pumpkin pudding, crouton salad with goat cheese, unique Osmanthus Moon Desserts, as well as a variety of beverages including a range of original cocktails created by Hotel Chinzanso Tokyo in collaboration with L'Occitane.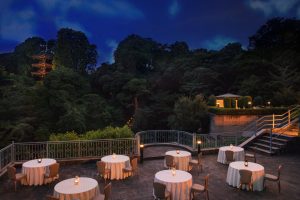 The dinner events will be held on the Banquet Garden Terrace. Participants will be able to enjoy the magical atmosphere of the scented and illuminated sea of clouds released in the garden. Reservations for this dinner event can be made online (*Japanese only. The dinner fee is 8,300 yen/adult).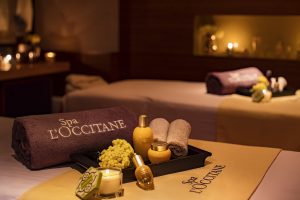 A special spa treatment titled Garden Secret Signature Treatment (50,600 yen) is available at YU, THE SPA from September 21 until November 10. Treat yourself to 150 minutes of relaxation, massage, and lovely fragrances. The course includes a 90-minute Immortelle Divine Secret facial care treatment and a 60-minute body massage with aromas that evoke the four seasons. If you love the fragrance of sweet osmanthus, select the body treatment with Osmanthus Body Milk.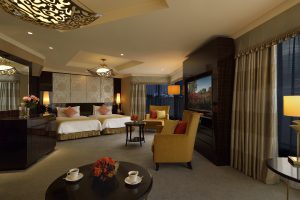 A completely unique aspect of the collaboration with L'Occitane is the Osmanthus Room. One of a kind, this room has been decorated so that guests can enjoy the refined fragrance of osmanthus throughout their stay. This room offers a magnificent view of both the Osmanthus-scented Sea of Clouds and the Tokyo Sea of Clouds: The Mediterranean under Moonlight.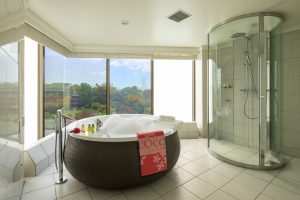 By staying in this room, you'll enjoy a heavenly bathtime with select fragrances and items provided by L'Occitane. Each guest will receive a bathtime gift of L'Occitane goods along with an Osmanthus Series Complete Gift Collection set that includes shower gel, body milk, eau de toilette and other products from the Osmanthus series, as well as a series of exclusive L'Occitane items.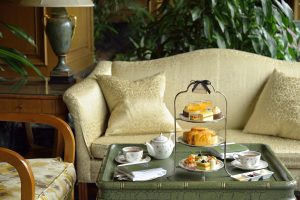 Moreover, the highly-acclaimed Afternoon Tea menu offered at the Lobby Lounge Le Jardin will be brought to you in the room together with a bottle of sparkling wine. As a guest staying in the Osmanthus Room, you'll be able to enjoy the refined Afternoon Tea at leisure without the pressure of having to clear the seat for the next visitor eager to taste this popular menu.
Guests can also opt for another limited-edition accommodation plan that includes a stay in a Prime Superior room and a Tokyo Sea of Clouds Garden Terrace Dinner. This plan is available from September 21 until October 26.
Dishes Inspired by Basho's Haiku Poems! Special Collaboration with Eisei Bunko Museum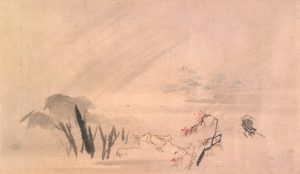 Tabiji no Gakan (Travel Scenes) by Matsuo Basho Early Edo period Kakimori Bunko
The Eisei Bunko Museum, well known for its impressive collection of calligraphy artwork and literary materials from the Edo (1603-1868) and Meiji (1868-1912) periods, is located near Hotel Chinzanso Tokyo. 
The museum's 2021 autumn exhibition is titled "Basho: the Unchanging and the Ever-changing" (October 2 – December 5). This event celebrates the life and work of poet Matsuo Basho (1644 – 1694) who is probably best known to non-Japanese readers for his haiku poems. An amazing collection of calligraphy, painting, and poetry works that belonged to an avid researcher of Basho's work will be brought all the way from Itami (Hyogo Prefecture) to be exhibited at the Eisei Bunko Museum.
Basho actually lived for a while in the area where Hotel Chinzanso Tokyo is located. A re-creation of his dwelling exists near the museum and is known as the Seiguchi Bashoan.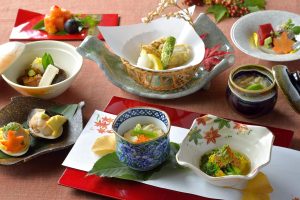 Hotel Chinzanso Tokyo will mark the event with special lunch menus inspired by Basho's poetry. 
At Japanese Restaurant Miyuki, visitors can enjoy a lunch course reminiscent of "The Narrow Road to the Deep North," probably the best known work of the traveling poet. "The Narrow Road to the Deep North" was written by Basho during his travels in northern Japan. The appearance and flavors of the dishes will surely make you want to learn more about this region that left such a powerful impact on the poet.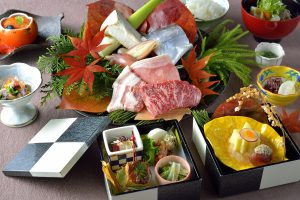 Mokushundo offers a menu inspired by "Nozarashi Kiko" ("Account of Exposure to the Fields"), a work that features Mt. Fuji among other motifs. 
These lunch menus are an excellent chance to enjoy seasonal flavors through refined dishes created to reflect the world of Basho's poems. We suggest enjoying these menus along with a visit to Eisei Bunko Museum to see the exhibition. Set tickets that include lunch and  exhibition access are available
On October 18, a curator of the Kakimori Bunko in Hyogo will give a special tour and lecture at the Basho exhibition. Hotel Chinzanso Tokyo offers a special accommodation plan to guests who wish to enjoy this event.  Guests are invited to stay at the hotel from October 17 and enjoy the garden and the Basho-themed menus, then take part in this exclusive museum tour the next day. Please check the official page of the event for details (Japanese).
Other Events: Special Dinner at Tokyo Sea of Clouds Restaurant
Those who wish to relish the bounty of the harvest season are invited to enjoy the special dinner available at Tokyo Sea of Clouds Restaurant from October 1 through November 28 (18:00 – 20:00). This full-course menu includes dishes made with luxurious ingredients such as shark fin, Chinese mitten crab, and flavorful vegetables grown locally. The restaurant is located on the third floor of the Banquet Building, offering a wonderful view of the sea of clouds and Chinzanso Garden.
Visit Hotel Chinzanso Tokyo this autumn for truly special moments spent marveling at the views, flavors, sounds, and scents of the season.
Updated on September 17, 2021